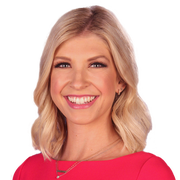 Allison Gargaro
Meteorologist
Allison Gargaro is a meteorologist on Fox 35's weekend morning and evening shows, which air from 7-10 a.m., 5 p.m. and 10 p.m.
Allison grew up in a suburb of Detroit, Michigan and moved to sunny Phoenix, Arizona in 2008. She graduated from the Walter Cronkite School of Journalism and Mass Communication at Arizona State University and continued her education by completing her certification from Mississippi State University's Broadcast Meteorology Program.
Allison's first job was at KERO in Bakersfield, California where she was the evening meteorologist and hosted a cooking show called 'Simply Sweet Allison.' While in Bakersfield, she also wrote a cookbook which raised thousands of dollars for charity. If you were wondering, her favorite dish is banana bread... yum!
Allison enjoys cooking, staying active, reading and FaceTiming with her parents three rescue chocolate labs.
The latest from Allison Gargaro
A cold front is moving across the southeast, bringing a rise in rain and storm chances as early as 1 p.m. Wednesday in Alachua and other nearby counties.