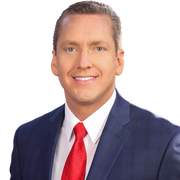 Stephen Hauck is an award-winning veteran Broadcast Journalist who joined the FOX 35 news team in April 2016.He currently anchors the FOX 35 NewsEdge @ 6 and the NewsEdge @ 8 on FOX 35 Plus.
Since moving to central Florida in 2016, Stephen has covered many big news events, including being one of the first journalists on the scene after the Pulse nightclub shooting in downtown Orlando – reporting live all day long, for FOX 35 and FOX News.He has also covered multiple presidential campaign rallies, and hosted numerous political shows on Fox 35 for the 2016, 2018, and 2020 election seasons.
Stephen also reported live from Tallahassee, for the inauguration of Florida governor Ron DeSantis.Additionally, he has anchored countless hours of hurricane coverage, during Hurricane Matthew and Hurricane Irma – which both impacted central Florida.
Stephen loves living in central Florida with his wife and two children – enjoying everything the region has to offer, and not having to deal with freezing cold weather in the winter.
Stephen came to Orlando from WIAT-TV (CBS) in Birmingham, Alabama - where he anchored and reported for 18 years. While there, Stephen was awarded "Best News Anchor" in Alabama, twice (by the Associated Press and the Alabama Broadcasters Association). He has also been named "Best Reporter" in Alabama, earned awards for "Best Feature Story" and "Best Documentary," anchored a broadcast which won for "Best Daytime Programming," and anchored a broadcast which earned an Edward R. Murrow award for "Breaking News Coverage."
Stephen is originally from San Diego, California, but moved to Huntsville, Alabama at age 10. He lived in Alabama from 5th grade through college, earning his Bachelor's degree in Broadcast Journalism and Speech Communications from Troy State University
.After graduating from college in 1997, Stephen took his first job at CNWG in Rome, Georgia as a reporter and fill-in anchor - before moving to Birmingham in 1998, where he spent nearly two decades at WIAT.
Over the years, Stephen has had the opportunity to interview countless national figures and celebrities, including: Tiger Woods, Tom Selleck, Garth Brooks, Mitt Romney, LL Cool J, Mario Lopez, Mandy Moore, Charles Barkley, Brooke Burke, Marco Rubio, Jesse Jackson, Kirk Cameron, Johnny Cochran, Jerry Rice, Billy Bob Thornton, FBI director James Comey, Ben Carson, Arnold Palmer, Mike Krzyzewski, and Lou Holtz.
Stephen enjoys volunteering with different ministries and organizations where he can help the less fortunate. He also loves serving on international mission trips. Since 2008, Stephen has served on 18 mission trips in Honduras in Central America, the Amazon jungle of eastern Ecuador, the impoverished island nation of Haiti, the Andes Mountains of Peru in South America, South Sudan in the heart of Africa, the jungles of northern Thailand in southeast Asia, and in Greece - ministering to refugees who fled their war-torn homelands.
Stephen is very excited to be part of the FOX 35 news team – anchoring and reporting the news that matters most to the viewers of central Florida!
The latest from Stephen Hauck