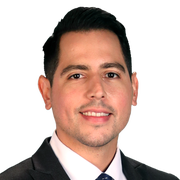 Nestor Mato
FOX 35 Reporter
Nestor is a reporter for Good Day Orlando and is happy to join FOX 35. A "Florida man," Nestor was born and raised in Miami and has worked as a reporter for TV stations in Miami and Fort Myers.
Most recently, Nestor was a news and political reporter for NBC Boston and their regional channel, NECN. While there he covered the 2020 New Hampshire Primary and interviewed several presidential candidates and members of Congress. He was in New England during the start of the pandemic and covered the way the virus changed our world.
During his time reporting in the Sunshine State, he followed several hurricanes up the Florida coast, covered the 2018 Gubernatorial election, and was in Parkland for wall-to-wall coverage of the Marjory Stoneman Douglas School shooting.
Nestor started his reporting career in the Rio Grande Valley of Texas where he told stories along the U.S.-Mexico border. 
A big foodie, Nestor is always willing to try a new place to eat, enjoys the gym, and is constantly looking for a story. Find Nestor on social media and say hello!