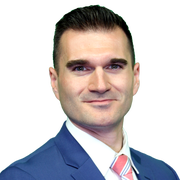 Dave Puglisi is an Emmy nominated journalist who joined FOX35 in June of 2021.
Dave spent the past two and a half years reporting in his home state of Connecticut as the lead reporter for the state's number one broadcast, the FOX61 News at 10. He's covered some of the state's biggest stories including the Disappearance of Jennifer Dulos, offering a voice to people struggling during the COVID-19 pandemic and to people during social unrest following the death of George Floyd. 
On two occasions he negotiated with hospital staff to allow families to see their dying loved ones one last time during the height of the no-visitor policy due to the pandemic. His coverage of one special woman, Jendayi Scott-Miller, and her attempt to feed the hungry plagued by the pandemic in her community led to the creation of a non-profit that feeds thousands a week. The organization is called the "Angel of Edgewood" after the nickname Dave gave Ms. Miller.
Dave has interviewed world leaders and has been sourced by the New York Times, the Associated Press and more. His coverage of a Black Lives Matter protest in Newington, Connecticut earned him a regional Emmy Award nomination. 
Dave is also an adjunct professor at the University of New Haven where he teaches journalism classes. Dave is a former Media Production Specialist and professor at Quinnipiac University. 
Dave graduated Summa Cum Laude with a Master of Science in Sports Journalism from Quinnipiac. He also has a bachelor's degree in Communication from New Haven. 
Dave is a passionate sports fan with allegiances to the New York Rangers, Mets and Giants. He also dreams of the day the Whalers come home to Hartford, CT!