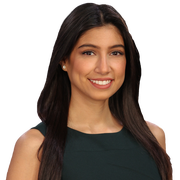 Samantha Sosa joined the Fox 35 team in November 2018.
She's a Miami native, so she's no stranger to Florida's warm weather and beaches. She is a bilingual reporter who seeks to empower young women of all backgrounds.
Before moving to Orlando, Samantha was a general assignment reporter at WFTX Fort Myers, Florida, where she covered several elections, environmental issues, presidential rallies, and major storms including Hurricane Irma and Matthew.
Samantha also has experience as a digital producer at WSVN Miami. She's a proud graduate of the University of Florida, where she earned a Bachelor of Science in Telecommunications and a certificate in International Relations.
When she's not reading or reporting news, she likes to travel, discover new restaurants, spend time with family, and hit the Orlando theme parks.