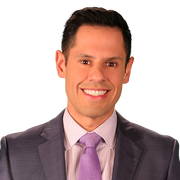 Ray Villeda joined the Fox 35 team in July 2021, anchoring the NewsEdge at 8:00pm and reporting for all newscasts.
Villeda comes from WNBC in New York where he covered several high-profile stories for Tri-State viewers. His reporting during the deadly December 2019 Jersey City shootout was recognized by the Radio Television Digital News Association (RTDNA), which awarded NBC 4 New York the 2020 National Edward R. Murrow Award for Top Television Newscast.
Villeda's reporting was also a key component of NBC 4 New York's award-winning COVID-19 coverage, honored in January 2021 with the prestigious Alfred I. duPont-Columbia University Award for "creat(ing) a 360 view in real-time of the coronavirus pandemic, with courageous and thorough reporting on the virus's explosion in New York City." The duPont has long been recognized as the broadcast, documentary and online equivalent of the Pulitzer Prize, also awarded by Columbia University.
In July 2016, Villeda traveled to Dallas and delivered live updates on the ambush-style attacks which left five police officers dead. He was later awarded a New York Emmy® as part of NBC 4 New York's team coverage of the Dallas attacks.
In September of 2017, Villeda was one of the only New York-based local television reporters on the ground in Puerto Rico following Hurricane Maria's landfall. He remained on the ground in the aftermath of the storm to chronicle the recovery for Tri-State viewers.
Prior to joining WNBC, Villeda reported at KXAS, the NBC station in Dallas-Fort Worth. It was here that he was recognized with two Emmys® for on-camera live reports, and for general assignment stories. At KXAS, Villeda's assignments took him across the nation, covering major stories such as Hurricane Sandy, the Ebola outbreak from Dallas to Atlanta, and the border crisis. Fluent in Spanish, he was able to secure firsthand accounts from families who had made the trek over the Texas-Mexico border.
He's also reported and anchored in Hartford, Conn. at WFSB.
He is a proud graduate of Ithaca College and made his television news debut on Syracuse's NBC3 (WSTM-TV). A native New Yorker, Villeda is excited to call one of the downtown Orlando neighborhoods home.