Tips for spotting and avoiding personal loan scams
Our goal here at Credible Operations, Inc., NMLS Number 1681276, referred to as "Credible" below, is to give you the tools and confidence you need to improve your finances. Although we do promote products from our partner lenders, all opinions are our own.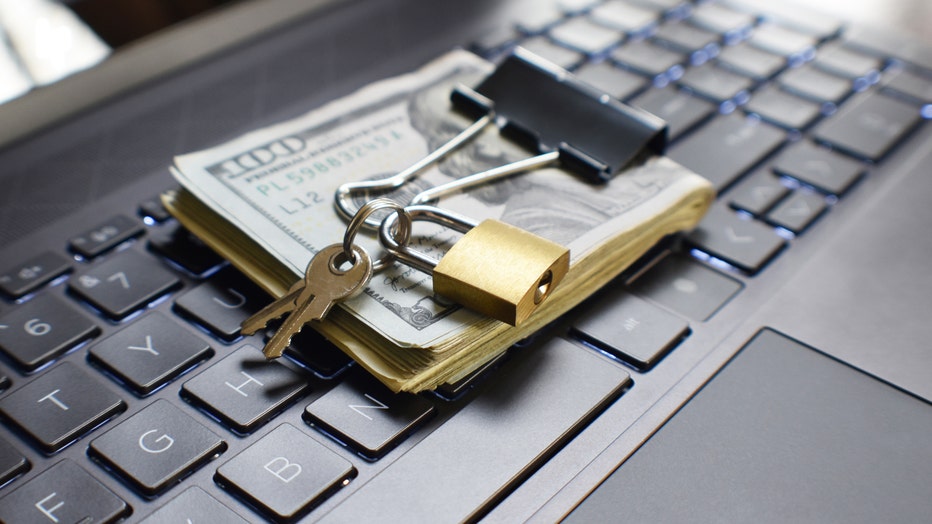 Personal loan scams have been on the rise. Here are six red flags that can help you identify scammers and find reputable personal loan lenders. (iStock)
When you're in desperate need of cash and unsure how to identify legitimate lenders, it can be easy to fall for a personal loan scam. 
Consumers reported 99,667 cases of identity theft in 2020 for business and personal loans, according to the Federal Trade Commission. This represents a 127% increase from the previous year. If you don't see the warning sign of a personal loan scam and you fall into a scammer's trap, your identity can be stolen. You could end up with fraudulent information on your credit report, and a scammer could steal some of your hard-earned money. 
To avoid being ripped off by fraudsters, learn how to identify some common warning signs of a personal loan scam. 
If you're looking for a reputable lender, visit an online marketplace like Credible to explore personal loan options.
What are personal loan scams?
A personal loan scam happens when someone pretends to be a legitimate personal loan lender. Although their deceptive tactics vary, they may promise to issue you a personal loan in exchange for an upfront fee, send you a fake check in the mail, or even con you into filling out a fake personal loan application.
The scammer's main objective is to trick you into giving them money, sensitive personal information, or both. Once they have your important data, they can steal your identity and apply for credit in your name. If they succeed, they can cause major damage to your credit, which could temporarily prevent you from qualifying for much-needed financing or an apartment or house.
6 red flags of a personal loan scam
It can be tough to distinguish a reputable lender from a fake one if you don't know what to look for. While scammers are constantly evolving their tactics, here are six common warning signs to help you identify potential scams.
1. The lender guarantees approval
Before approving you for a loan, a lender usually reviews key factors like your debt-to-income ratio, credit score, and income. By doing so, it can assess the likelihood of you repaying the loan or charge higher loan rates for those with bad credit — those with better credit scores typically qualify for a better interest rate.
If a loan company tells you it guarantees loan approval without going through this process, this is a sign the loan company may be fraudulent. Legitimate personal loan financial institutions, even those that offer bad credit loans, usually have a review process with credit checks to confirm your income and credit history.
2. Upfront fees
Although some financial institutions may charge you application or origination fees for underwriting the loan, these fees are usually taken from the loan amount. Legitimate personal loan lenders don't ask borrowers to wire money or use gift cards or prepaid credit cards. In addition, lenders won't charge an origination fee to check your rates. If a lender asks for an upfront fee, you might be dealing with a personal loan scam. 
3. The lender offers you a loan by phone
It's illegal for a lender or telemarketer to guarantee you'll qualify for a loan by phone in exchange for a fee because it violates the Telemarketing Sales Rule, according to the Federal Trade Commission (FTC). If a lender does this, it's definitely a sign you should run.
While you can be approved for a personal loan over the phone, this involves you contacting a lender. A lender shouldn't contact you unsolicited. Once you contact the lender, it will ask you to provide some financial and personal information to complete your loan application.
Afterward, you'll have to review and sign a loan agreement before your funds are issued.
If you're considering a personal loan or want to take out a second personal loan, you can visit Credible to compare loan rates and lenders.
4. The lender isn't registered in your state
Lenders are required to be registered in each state they do business in. If a company isn't registered in your state, then offering you a personal loan is against the law. If a company is not registered in any state, it may be a sign of a scam.
To make sure you're avoiding a personal loan scam, double-check with your state's attorney general's office to see if the company is properly registered.
5. The lender contacts you directly to offer the loan
While a legitimate lender may send you prescreened offers in the mail as a form of advertisement, it won't contact you directly to solicit your business. If you do receive a pre-approved or prescreened offer — sometimes in the form of a check that you can cash — be sure to carefully review the loan terms and comparison shop before you cash the check.
Remember, a real company will require you to submit a formal application that includes personal and financial information and perform a credit check. 
6. The lender says no credit check is needed
If a lender says no credit check is required, proceed with caution. This could be a warning signal. Some high-cost lenders, like payday loan companies, waive credit checks but, in exchange, they charge a very high effective interest rate.  
A legitimate loan company will perform a hard credit inquiry to determine whether it should approve your loan.
How to tell if a personal loan company is legitimate
In addition to a lender being registered in your state, you should focus on these five factors to help you determine if a loan company is legit:
Physical address — A lender that has no physical address or one that uses a P.O. box for an address is one that you should treat with suspicion. Legitimate companies will display their physical address somewhere on their websites.
Secured website — If the lender's website isn't secured, this can be a sign that the company isn't real. You can see if a website is secure by looking for the padlock in the browser's address bar.
Better Business Bureau — You can use the Better Business Bureau to review a lender. If the lender isn't listed or has few reviews, it might be a fake company.
Check online reviews — Reading online reviews can help you get a sense of what other people think about the personal loan lender. But if you can't find any reviews or the ones you do find seem suspect, this could be a sign to avoid the lender at all costs.
Vet contact information — Look for a phone number and call to confirm it's a real company. A lender that doesn't list any contact information on its website may have poor customer service at best, and be an outright scam at worst.
To learn more, visit Credible to compare rates from multiple personal loan lenders.
What should you do if you get scammed?
Taking the steps above can help you avoid scammers, but it doesn't eliminate the risk of fraud. If you believe you've been scammed, here's what you can do:
Gather evidence. Collect all the evidence you can think of. This includes any loan agreements you signed, phone calls, emails, or letters you received in the mail.
File a police report. Contact your local police department to file a report. Keep a copy of this report because you may need it to complete additional steps.
File a report with the proper agencies. In addition to filing a police report, you should file a report with other agencies by visiting IdentityTheft.gov, the Consumer Financial Protection Bureau, and your state's attorney general's office. Some of these agencies may be able to help you get some of your funds back or recover from identity theft.
Review your credit reports. If you gave the scammer important personal information (like your Social Security number), it's important to check your credit reports for signs of identity theft. You can check your credit reports from the three major credit bureaus — Equifax, Experian, and TransUnion — for free weekly at AnnualCreditReport.com through April 20, 2022. To protect yourself against credit fraud, consider freezing your credit.
How to find a legitimate personal loan company
Here are four steps you can take to find a legitimate personal loan lender:
Use a marketplace like Credible. Consider using Credible or a similar online marketplace that matches you with reputable personal loan lenders. By doing this, you can save time researching whether a lender is legitimate.
Check out online reviews. Read online reviews to learn about other people's experiences working with a lender. If reviews are nonexistent, this could be a sign that the company is fraudulent.
Look to financial institutions you already know and work with. If you already have a relationship with a bank, credit union, or online lender, see if it offers personal loans. You may be able to score a relationship discount, which lowers your interest rate by a certain percentage, if you qualify.
Get recommendations from trusted friends, family, and coworkers. Don't overlook your network. Ask someone you trust if they've taken out a personal loan before and whether they'd recommend the lender they worked with.