Abortion rights groups submit 2023 fall ballot measure in Ohio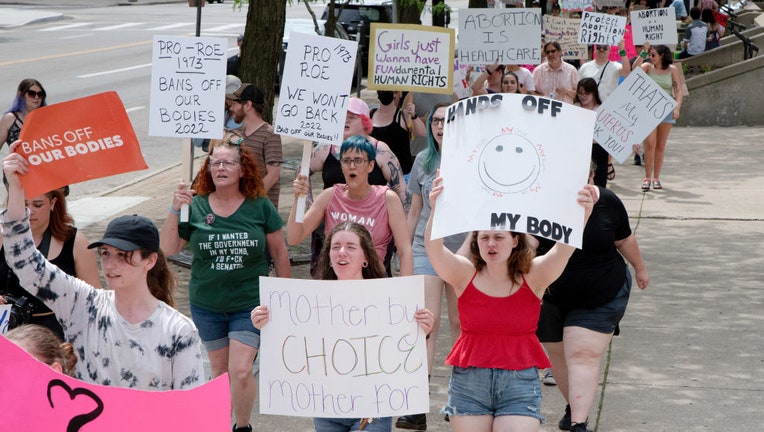 article
COLUMBUS, Ohio - Two groups advocating for abortion rights submitted fall ballot language Tuesday for a constitutional amendment guaranteeing Ohioans' access to abortion, an effort that opponents have vowed to fight.
The measure delivered to Republican Attorney General Dave Yost's office calls for establishing "a fundamental right to reproductive freedom" with "reasonable limits." In language similar to a constitutional amendment Michigan voters approved in November, it would require restrictions imposed past a fetus' viability outside the womb to be based on evidence of patient health and safety benefits.
"Our common sense amendment will restore the rights and protections that were destroyed when Roe was overturned," said Dr. Lauren Beene, executive director of Ohio Physicians for Reproductive Rights. "It will preserve the doctor-patient relationship and empower all people to make their own reproductive health care decisions without interference from the government, lobbyists and politicians."
RELATED: Abortion in Minnesota: Walz signs 'fundamental right' to abortion into state law
Ohio Physicians for Reproductive Rights is joining Ohioans for Reproductive Freedom in advancing the measure, in a campaign they estimate could cost up to $36 million.
Their effort follows the U.S. Supreme Court's decision last June to overturn the landmark Roe v. Wade ruling that protected abortion rights, which shifted the contentious battle over abortion to the states.
In the first state test following the Dobbs v. Jackson Women's Health Organization decision, Kansas resoundingly protected abortion rights in August, and four other states in addition to Michigan — California, Kentucky, Montana and Vermont — either enshrined those rights or rejected constitutional restrictions on the procedure in November. 
RELATED: House GOP push anti-abortion measures after gaining majority
Five more states are set to vote either to restrict or guarantee the right to abortion between now and next year, according to the election tracking organization Ballotpedia.
Another member of the Ohio physicians' group, Dr. Marcela Azevedo, said that the same enthusiastic support for abortion rights that has been seen in other states was also expressed in Ohio. She said so many people lined up to sign their petitions this weekend that 7,000 signatures were collected in 48 hours, which is a record amount.
The urgency is driven by the fact that state lawmakers in the Republican-dominated Ohio General Assembly are moving to make it more difficult to amend the Ohio Constitution, by placing an issue of their own on the November ballot raising the threshold of votes necessary to approve changes from 50% to 60%.
Nationally, 63% of midterm voters said that abortion should be legal in most or all cases, according to AP VoteCast, an expansive survey of over 90,000 voters across the country. Only 8% of voters said that abortion should be illegal in all cases. In Ohio, those figures were similar, with 59% of voters saying abortion should generally be legal and just 7% saying abortion should be illegal all of the time.
RELATED: Idaho court tosses lawsuits aiming to block abortion bans
Ohio Republican Party Chair Alex Triantafilou called the amendment "wildly out-of-step with Ohio values," and the national group Susan B. Anthony Pro-Life America slammed its broad wording as a threat to Ohio's parental consent and to "the guardrails preventing vulnerable women from being coerced into unwanted abortions."
Groups behind the measure said they represent a broad coalition of patients, doctors, reproductive rights experts, health and justice leaders and grassroots activists who span the political spectrum. They plan a well-funded, nonpartisan campaign with experienced legal counsel, public opinion researchers, strategic and communications consultants and an army of volunteers at the ready.
Still, the state's powerful anti-abortion lobby was undaunted.
RELATED: South Carolina's top court strikes down state's abortion ban
The state's oldest and largest anti-abortion organization, Ohio Right to Life, has pledged to launch what it called "the largest grassroots initiative to protect women and children in Ohio's history." And Cincinnati Right to Life sent a fundraising and volunteer recruitment email last week saying the state's anti-abortion organizations have been "meeting and planning for months" in anticipation of the amendment's submission.
The role of Yost's office is to determine whether the summary is a fair and truthful representation of the proposal. He also happens to have squared off against some backers of the constitutional amendment in court.
After the ruling overturning Roe said the U.S. Constitution does not protect a right to abortion, Ohio's near-ban on abortions — from the first detection of cardiac activity, around six weeks into pregnancy, before most women know they are pregnant — and others like it were quickly reinstated.
RELATED: 'We won't go back': Abortion rights activists rally 50 years after Roe
A group of Ohio clinics represented by the ACLU of Ohio withdrew their federal constitutional challenge and filed one instead under Ohio's constitution. It argues that abortion falls under provisions of that document that protect privacy and freedom in health care decision-making, among others.
After a judge again blocked Ohio's near-abortion ban while that lawsuit proceeds, Yost appealed to the Ohio Supreme Court to lift that stay. The high court, newly constituted with a more conservative Republican majority than it had before, has yet to rule on his request.