Consulate of Mexico in Orlando holds information session over anti-illegal immigration bill
ORLANDO, Fla. - It was standing room only inside the lobby of the Consulate of Mexico in Orlando Thursday night as concerned community members learned more about the anti-illegal immigration bill Gov. Ron DeSantis signed and how it impacts them.
"The people [are] very scared today," Consul Juan Sabines said.
Sabines has already heard from people who've said they plan to leave the state out of fear.
"They think, 'Let's go to Georgia, let's go Texas, another state.' I say, 'Wait, please don't go, because it's only the beginning,'" he said. 
The bill, among other things, invalidates out-of-state driver's licenses, E-Verify mandatory for companies with more than 25 employees, requires certain hospitals to ask about a patient's immigration status, and creates penalties for bringing undocumented immigrants across state lines.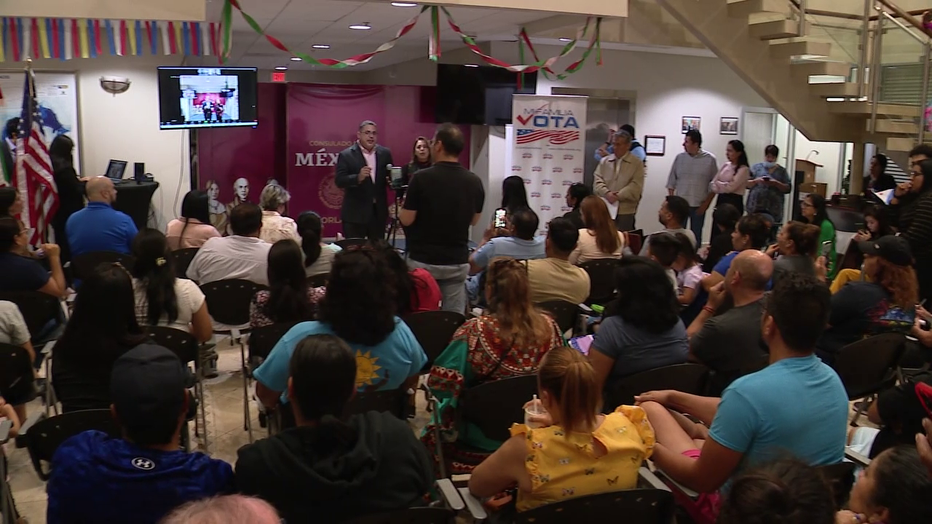 "[You put in the] effort every day to bring the best for this state, for this country, and they say, 'No, you are not welcome here,'" Sabines said.
The bill also goes after businesses that knowingly employ undocumented immigrants, striking fear in Florida's agricultural and construction industries. 
RELATED: Immigrant rights activists denounce new law
"Who do you think picks up the onions, the Chiles, with their hands from the farms? It's the immigrants. And if they think this is not going to affect Florida, they're mistaken," Alberto Bastida, an undocumented immigrant who's lived in the U.S. for about 20 years, said. 
While some in his community may be fearful, he says this new bill doesn't scare him, and he's not going anywhere.
"I work four jobs. If that's not enough, then what is?" Bastida said. "I don't think I'm hurting anyone by being here."