Gov. DeSantis warns that restaurants, bars breaking capacity limits will have their license suspended
ORLANDO, Fla. - Governor Ron DeSantis says that Florida restaurants and bars breaking the capacity limits set for phase two of reopening will have their license suspended.
DeSantis spoke about the recent increase in cases from Orlando Health on Tuesday afternoon. He said that the median age of positive coronavirus cases is getting younger and that recently, the state has seen a "real explosion in new cases amongst our younger demographics." He expressed that the bulk of cases are between 25 to 35, with the median age hitting 32 in both Orange and Seminole County at some point in the last week. 
The governor said most of the new cases are from community transmission, especially between 20 and 30-year-olds, and it seems the older Floridians, who tend to be more vulnerable, are being more careful. He said that the good news about younger people testing positive is "that age group, unless they have a real serious underlying condition, do not suffer the same types of clinical consequences whether hospitalization or COVID-related fatalities that people in the older group do."
In fact, he went on to say that long-term care facilities have shown fewer cases recently. 
MORE NEWS: 3,286 new cases, 65 more deaths announced by Florida health officials
He urged Florida residents to "just stick to the basic program that we've advised from the beginning." Make sure you are keeping appropriate physical distance, practice good hygiene, wash your hands, and wear a mask when you cannot socially distance.
From there, he went on to talk about businesses in particular. He explained that it is very important for businesses to be cautious. For example, wear a face mask when doing face-to-face business and follow capacity limits. Under phase two of reopening, bars and restaurants can have 50 percent capacity indoors and with tables space six-feet apart. 
"This is very easy to understand. We're in a step-by-step process as we move forward here. The guidelines are in place for a reason. We're not doing it just to do it," Governor DeSantis explained. "The reason that we're doing it is because we want to have environments that are not going to be a huge risk for transmission. If you don't follow the guidelines and you pack huge amounts of people indoors and they're very close, you're creating an environment where you're going to see more spread."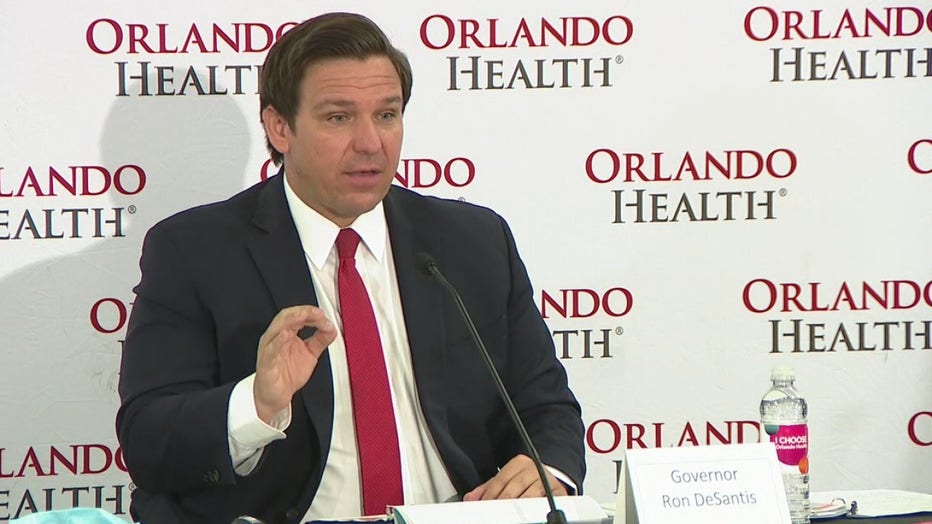 He added that "if people see a pub or a restaurant and they're operating at 55 percent, give them a warning, tell them hey, 50. But if you go in and it's just like mayhem, like dance party USA and it's packed to the rafters -- That's just cut and dry. That's not just an innocent mistake. So, I told him, no tolerance for that — just suspend the license. And move on. Then people will hopefully get the message that these guidelines are in place for a reason."
MORE NEWS: Trump hints at 'generous' second coronavirus stimulus check. Here's how much you could get
Halsey Beshears, The Secretary of the State's Department of Business and Professional Regulation, confirmed during the news conference that Sheriffs across the state have been told to do this and that officers will patrol bars and restaurants for violations. Warnings will be given but when appropriate, licenses will be suspended. 
Governor DeSantis went on to describe Halsey as the "grim reaper in terms of business licenses."
The Department of Business and Professional Regulation suspended the liquor license of the Knight's Pub, a popular bar near the University of Central Florida, on Monday after 13 employees and at least 28 customers tested positive for coronavirus.
CLICK HERE FOR COMPLETE CORONAVIRUS COVERAGE
Tune in to FOX 35 Orlando for the latest coronavirus news.