Orlando will see another cloudy, rainy, breezy day as showers move across Central Florida
ORLANDO, Fla. - Tonight's low: 69 degrees | Tomorrow's high: 78  
Main weather concerns: Wednesday will bring another day full of clouds, passing showers, and gusty breezes. Rain chances will be highest along the coastal areas. Most locations will see highs in the mid-upper 70s this afternoon, some spotty readings near 80 might be found in Southern Brevard County. 
Gusty winds will raise seas and surf at all Central Florida beaches. A high surf advisory is in effect until further notice. A flood watch is in effect through Thursday afternoon for the coastal counties as the heaviest rain (excess of 4") could fall in those areas.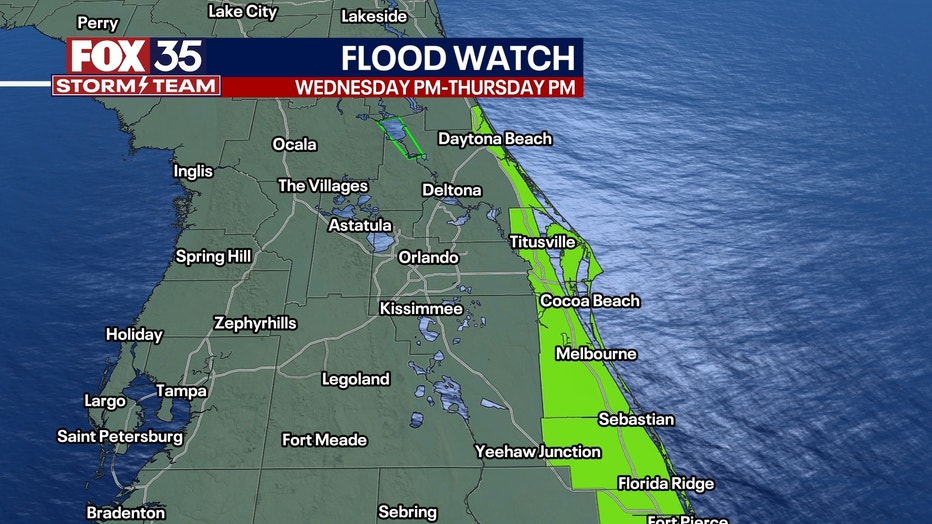 BEACHES:
Passing areas of rain and very gusty winds will rule the day along the coast. Surf will build quickly. A high surf advisory is in effect. Coastal flooding could also occur during times of higher tides. Surf temps are near the 70-degree range, so it's doubtful that anyone will enter the turbulent waters.
THEME PARKS:
The attractions will feature cloud cover and highs in the mid-upper 70s. Rain chances are around 50% in passing showers. While lightning storms are not expected, the passing showers will make it a challenging day in the parks. Rain continues tonight at the attractions with coverage falling to 40%.
OUTLOOK:
A FOX 35 Weather Impact Day has been issued for Thursday as the heaviest rain moves across the region. Low pressure will move in from the Gulf of Mexico with a secondary low spinning up somewhere near South Florida.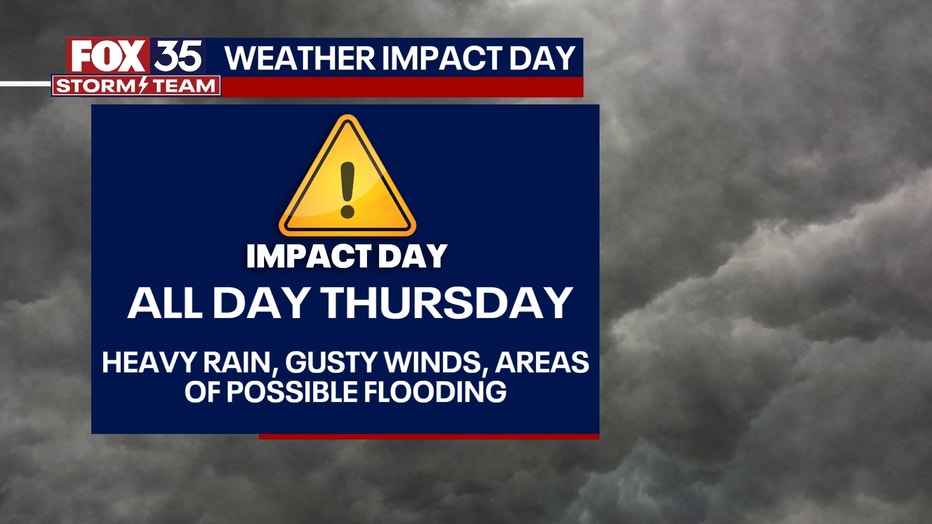 Rain chances will sharply rise in response to these features. Locally heavy rain, gusty winds, especially along the beaches, and the possibility of low-lying flooding will all be present over the next couple of days with a focus on Thursday.
TROPICS:
The FOX 35 Storm Team is monitoring the latest tropical models as they continue to suggest a low-pressure system will develop in the Caribbean this week and could become a tropical depression during that time.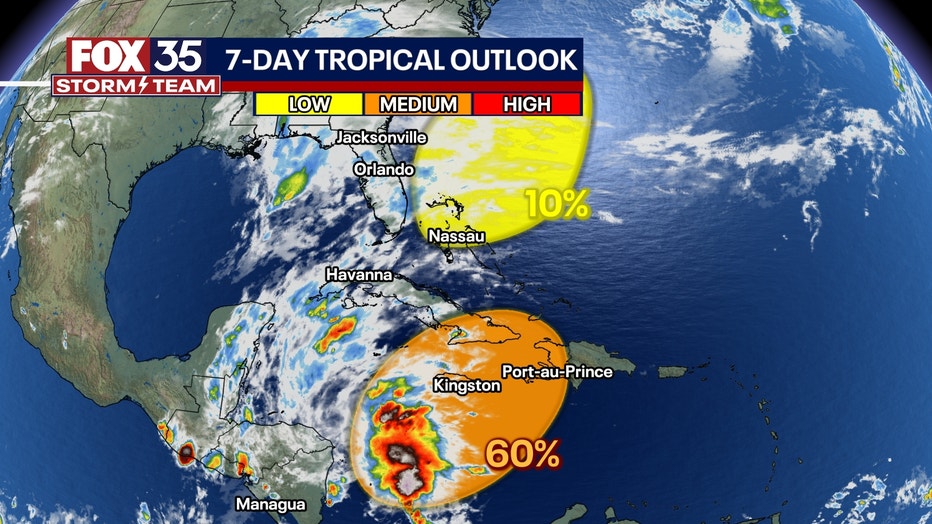 The National Hurricane Center has lowered the risk for a system off the coast of Nicaragua, tracking towards Jamaica, though there is still a medium chance for further development. Overall trends have this system developing and moving northeastward over Jamaica, Cuba, and Hispaniola before heading out into the Atlantic by this weekend. At this time, there was no threat to Florida. 
The NHC has also added a slight 10% risk for tropical development on the east coast of Florida as a low as it departs Friday.