Parkland shooting 'feels like five minutes ago' says father of victim ahead of somber aniversay
TALLAHASSEE, Fla. - Five years after a mass shooting that shook Florida, Marjory Stoneman Douglas High School and Parkland remain inextricably linked to the ghastly day when a troubled teenager in less than four minutes killed 14 students and three staff members, injured 17 more and traumatized an untold number of children and families.
But the Feb. 14, 2018, tragedy also sparked a national movement created and led by young people, spurred changes in state law aimed at making schools safer, and led to new firearm restrictions in what had been dubbed the "Gunshine State."
"It still feels like five minutes ago," Fred Guttenberg, whose 14-year-old daughter, Jaime, was among the victims, told The News Service of Florida in a phone interview Thursday.
In the weeks after the shooting, outrage escalated as it was revealed that gunman Nikolas Cruz, then 19, had a lengthy history of disturbing behavior that prompted at least two reports to the FBI identifying him as dangerous. He also had numerous contacts with mental-health providers and education officials. Cruz was able to legally purchase the AR-15 rifle he used to carry out the attack.
Students and victims' families flooded the state Capitol, where the Legislature was meeting, and lawmakers quickly passed a measure addressing mental health, school safety and guns.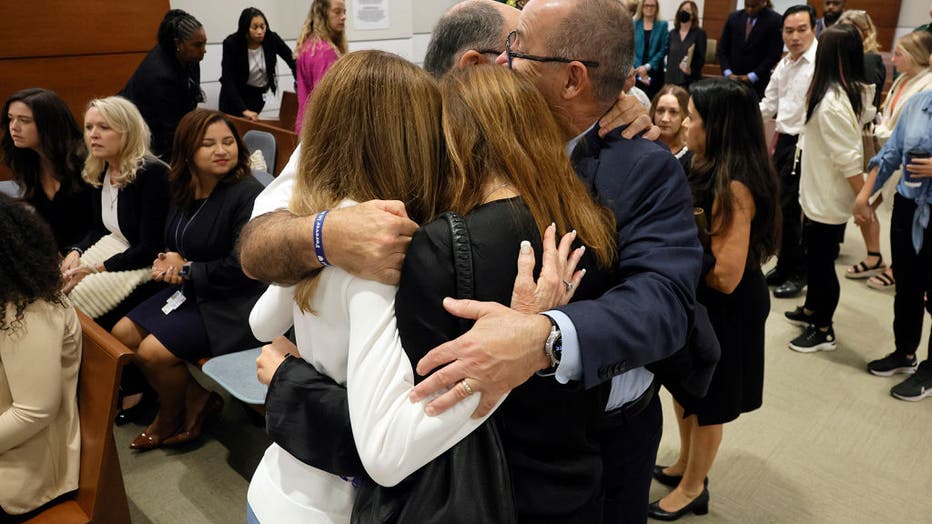 Linda Beigel Schulman, Michael Schulman, Patricia Padauy Oliver and Fred Guttenberg as families of the victims enter the courtroom for an expected verdict in the penalty phase of the trial of Marjory Stoneman Douglas High School shooter Nikolas Cruz
The law included barring sales of rifles and other long guns to people under age 21 and a "red-flag" provision allowing law enforcement officials to seek permission from judges to temporarily force people to turn over weapons if they are deemed threats to themselves or others.
The March For Our Lives organization, spearheaded by Parkland students, came out of the mass shooting. The group has held marches throughout the nation calling for stricter gun regulations.
As the five-year anniversary of the shooting approaches, David Hogg, one of the group's founders, said he is reminded of "how far we've come but how far we have to go."
"People said that you're just a bunch of kids and you're never going to pass anything in the Florida Legislature, and we did," Hogg, 22, told the News Service in a phone interview Thursday.
The red-flag law, Hogg said, has thwarted an unknown number of violent incidents, including in his own family.
Hogg's mother received a death threat that said, "F with the NRA and you'll be DOA." His family used the red-flag law, and the person who made the threat was forced to relinquish his firearms.
"The law that we passed in Florida may have stopped me from having to bury my own mother," Hogg, in his final semester at Harvard University, said.
A self-described "pretty cynical person," Hogg nevertheless said he has "some level of hope" because of his group's accomplishments, including the passage of more than 100 gun laws in the country since 2018.
"We mobilized our generation in a way that really has frankly never been seen in terms of the electoral work that we're doing," he said.
The 2018 law, known as the Marjory Stoneman Douglas High School Public Safety Act, also created a commission that probed the mass shooting and continues to make recommendations to bolster school safety.
"Five years. It feels like yesterday in some respects, and it feels like an eternity in others," Pinellas County Sheriff Bob Gualtieri, who chairs the commission, said during an interview with the Deeper Dive with Dara Kam, a podcast that will be released Sunday on the website of City & State Florida, a sister publication of the News Service.
The commission quickly discovered that "the schools were not prepared, underprepared and that school safety wasn't a focus and a priority, which was amazing, given the fact that Columbine happened in 1989," he added, referring to a school shooting in Colorado.
The state has "made a lot of progress" over the past five years, "but we're not there," according to Gualtieri. "And quite honestly, no, we'll never be there and nobody should ever say we're there because there is no finish line."
Rep. Christine Hunschofsky, a Democrat who was the mayor of Parkland at the time of the shooting, told the News Service the tragedy affected her personally and professionally "because I knew many of these families beforehand." She said she had to compartmentalize her reaction to the tragedy.
"For me, the number one priority was helping our community navigate through this in the best way possible," she said. "I think it's important for everybody to realize that while time moves on, trauma remains and the impacts of that trauma remain. We still have students who were at the school that day who are struggling. And we need to do more as a society to make sure traumatic events like this, everyday gun violence, other traumatizing things, don't happen."
Ryan Petty's 14-year-old daughter, Alaina was among Cruz's victims.
"For us as a family, there's just a piece missing and we've had to try to grow or get comfortable with this part of our family that's just not there, Alaina, and all the things we imagined that she would be doing, all the things we would be doing together as a family. I think we struggled in many senses to find joy in the things that we used to easily find joy in," Petty, who also serves on the school-safety commission, said in a phone interview.
Petty said he's grateful for changes state leaders have adopted since 2018.
"The acknowledgement that it can happen here is probably the biggest change. They say culture trumps everything, and we had a culture perhaps in many places in the state, certainly this was true in Parkland and in schools in Broward County, of, 'That won't happen here.' And the mindset change that I see … is that there's an acknowledgment that it could happen and so we need to be prepared," he said.
The 2018 law and bills passed in the following years included requirements to harden school properties and classrooms against violence. As examples, classrooms must have "safe corners" and have doors that can lock, and school-safety officers must be deployed on every campus.
"There are a lot more things in place that will allow people to more appropriately respond and react. … You have to assume, and anybody that doesn't operate from this premise is just flat-out wrong, is that you cannot prevent this. It is going to happen again. It's a hard thing to say. People don't want to hear it. But the reality is, it's going to happen again," Gualtieri said.
The impact of Cruz's rampage continues to resonate.
State lawmakers this spring are prepared to do away with a requirement that jury recommendations for the death penalty be unanimous, after a jury did not sign off on a death sentence for Cruz. The confessed gunman was sentenced to life in prison in the deaths of Alyssa Alhadeff, Scott Beigel, Martin Duque Aguiano, Nicholas Dworet, Aaron Feis, Jaime Guttenberg, Chris Hixon, Luke Hoyer, Cara Loughran, Gina Montalto, Joaquin Oliver, Alaina Petty, Meadow Pollack, Helena Ramsay, Alex Schachter, Carmen Schentrup and Peter Wang.
Guttenberg said his family will mark Feb. 14 in the same way they have since 2018.
"We're going to spend it privately and with Jaime at the cemetery. We don't participate in the public events. … For us being with my daughter is where I belong," said Guttenberg, who no longer lives in Parkland.