Tracking coronavirus: Florida reports 253 more deaths, breaking single-day record for third day straight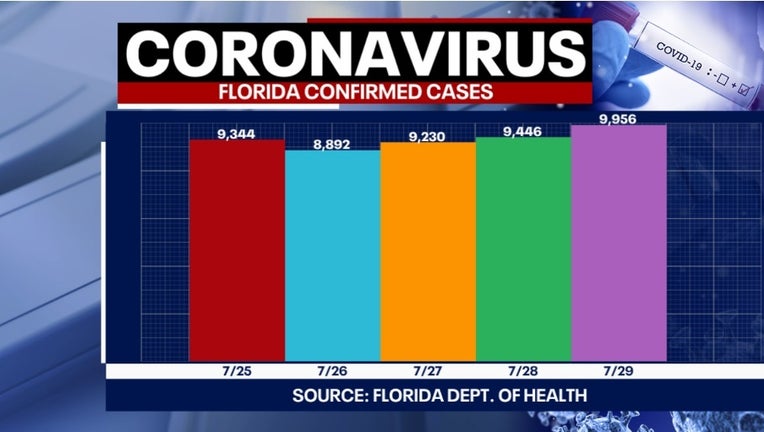 article
ORLANDO, Fla. - Below is a log of the day's events as it relates to the global coronavirus pandemic.
9:10 p.m. -- Attendees of certain graduation ceremonies in Central Florida are being asked to quarantine for 14 days after some people in attendance tested positive for coronavirus, school officials warned. See which school graduations were affected HERE.
8:00 p.m. -- One Central Florida county has seen its COVID-19 positivity rate go from just three percent to over 30 percent. Find out which one HERE.
6:30 p.m. -- Dr. Anthony Fauci, the nation's top infectious disease expert, said wearing goggles or an eye shield in addition to a face mask would provide better protection against the coronavirus, according to a report. Read more about the new recommendation HERE.
6:00 p.m. -- The Florida Chapter of American Academic of Pediatrics is worried that ending kids back too soon will lead to even more learning disruption and the have written to Governor Ron DeSantis. They included a list of recommendations for children in schools, some of which can be seen HERE.
5:45 p.m. -- A new study says that the COVID-19 pandemic may actually lead to fewer births. In fact, there could be 500,000 fewer births in the United States next year. Why a doctor is advising couples to not have babies right now HERE.
5:40 p.m. -- The Florida Department of Health in Osceola County announced that they are canceling testing this weekend at its Osceola Heritage Park location. It will be shut down on Saturday and Sunday, with testing reopening on Monday at 8 a.m. 
5:20 p.m. -- Governor DeSantis gave a quick update on COVID-19 and Tropical Storm Isaias.
5:00 p.m. -- Orange County Convention Center closes down for the next several days, as Tropical Storm Isaias nears Florida. All state-supported testing sites will shut down temporarily due to the possibility of inclement weather. Find out other testing options HERE. 
4:30 p.m. -- Orange County officials gave a COVID-19 update.
4:00 p.m. -- The City of Orlando will open another free mobile COVID-19 drive-thru and the pedestrian-accessible testing site next week. It will be located at Camping World Stadium and will operate on Wednesday, August 5th between 9 a.m. and 1 p.m. Appointments are required and can be made HERE.
4:00 p.m. -- Volusia County Schools says that they are extending their summer meal distribution program at 24 schools. They will now go until Thursday, August 13th. See the distribution sites HERE.
3:00 p.m. -- More than 10 million people have recovered from COVID-19 around the world, according to the most recent data available from the Johns Hopkins Coronavirus Resource Center.  Details HERE.
2:30 p.m. -- President Trump suggested this week the next coronavirus relief package could include a direct cash payment for American families that's potentially higher than $1,200. More about the payments HERE.
1:07 p.m. -- Buddy the German Shepherd and the first dog in the United States to test positive for coronavirus has died. The dog became infected in mid-April just before his seventh birthday. Six weeks later, on July 11, he was dead, according to National Geographic. Read more HERE.
12:02 p.m. -- Dunkin' expects to permanently close approximately 800 U.S. locations by the end of 2020, the company said Thursday. Details HERE.
11:30 a.m. --  The Universal theme parks are reporting huge losses due to the coronavirus pandemic, a new report says. A Comcast earnings report revealed that revenue at the Universal parks fell 94 percent during the second quarter when most of its parks were closed because of the COVID-19 pandemic. Read more HERE.
11:00 a.m. -- The Florida Department of Health reports another 253 people have died from coronavirus, making it the highest single-day report. The death toll is now at 6,586. The state also added 9,952 new cases, bringing the total to 461,379. 
10:34 a.m. -- Former Republican presidential candidate Herman Cain has died after being hospitalized with COVID-19. He was 74. Details HERE.
9:43 a.m. -- The U.S. economy shrank at a dizzying 33% annual rate in the April-June quarter — by far the worst quarterly plunge ever — when the viral outbreak shut down businesses, throwing tens of millions out of work and sending unemployment surging to 14.7%, the government said Thursday.
8:00 a.m. -- The government is poised Thursday to deliver a double-dose of sobering news — on the devastation the coronavirus caused the U.S. economy last quarter and the damage it continues to inflict on the job market.
7:04 a.m. -- Seminole County will give out $20 million to those struggling during the COVID-19 pandemic. The county said that they will soon let individuals and businesses apply for the CARES Act money. Individuals can get up to $5,000 and businesses up to $15,000.
5:18 a.m. -- There's a possibly groundbreaking new discovery in the fight against Alzheimer's Disease. Researchers now say a flu shot could reduce your risk for Alzheimer's and dementia. Read more HERE.
5:00 a.m. -- All state-supported COVID-19 testing sites will temporarily close starting Thursday because of the approaching Tropical Storm Isaias. 
4:00 a.m. -- The Florida Department of Health on Wednesday reported another 216 coronavirus deaths, making it a record single-day spike in deaths. The total is now at 6,333. The state also added another 9,446 cases of coronavirus, bringing the total in Florida to 451,423.
CLICK HERE FOR COMPLETE CORONAVIRUS COVERAGE
Tune in to FOX 35 Orlando for the latest coronavirus news.