Universal Orlando Mardi Gras 2023 Celebration: Concerts, food festival, parade floats, and tribute store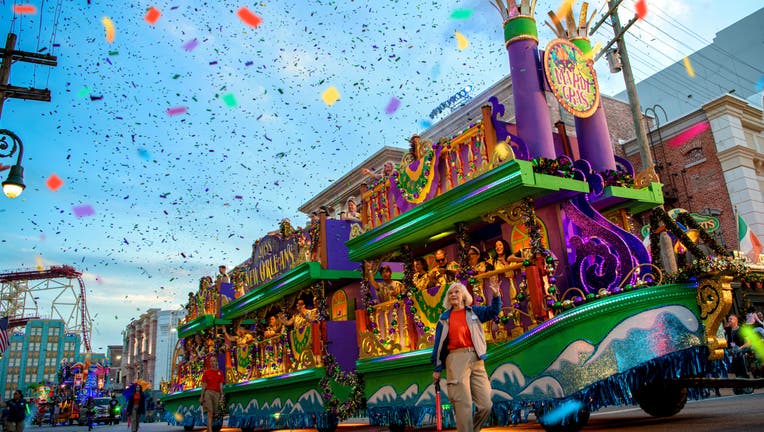 article
ORLANDO, Fla. - The Mardi Gras party at Universal Orlando Resort is less than a month away – and here is everything we know about the nightly concerts, parade and parade floats, food festival, and other festivities not to miss.
Officially known as Universal's Mardi Gras: International Flavors of Carnaval, the celebration runs Feb. 4 - April 16, 2023. New this year: new concert lineup, a new parade theme, more floats, and more food. Here's everything you need to know.
Universal Orlando's 2023 Mardi Gras Concerts
So far, Universal announced that there will be eight concerts during its Mardi Gras celebration. All concerts take place on the Music Plaza Stage, near Hollywood Rip Ride Rockit ride, and are included with theme park admission.
Here are the concerts that have been announced so far:
Feb. 4 - Patti LaBelle
Feb. 10 - JVKE
Feb. 11 - Goo Goo Dolls
Feb. 18 - Maren Morris
Feb. 19 - Willow Smith
Feb. 25 - 3 Doors Down
Mar. 4 - Sean Paul
Mar. 5 - Lauren Daigle
Universal Mardi Gras Parade - Mythical Realms of Mardi Gras
This year's parade theme is "Mythical Realms of Mardi Gras" and was inspired by "fantastical creatures like dragons, phoenixes, unicorns, and more – with a Mardi Gras twist," Universal said in its news release. This year's parade will have six more floats in the theme park's traditional floats, including the two-story Riverboat and nearly 50-foot King Gator float.
Here is the parade schedule:
6:15 p.m. | Feb 5-9, 12-16, Feb. 26-Mar. 2
7:30 p.m. | Feb. 17, 20–24; Mar. 3, Mar. 6 – Apr. 16
7:45 p.m. (concert nights) |  Feb. 4, 10-11, 18-19; Mar. 4-5
There is no parade on March 31.
Can you ride on one of the Mardi Gras floats? How to join the virtual queue
Yes! During the Mardi Gras celebration, it's also possible to ride on one of the parade floats and toss beads to those watching along the route. For a chance at riding on a float, people can book a reservation to join the Virtual Line experience via the Universal Orlando app. Spots are limited, according to Universal's website.
Riders have to be at least 18 or accompanied by an adult, be at least 48" tall, and be able to stand for the duration of the parade. Standard wheelchairs can be accommodated, though requests need to be placed at least 48 hours prior to a float reservation.
Food festival - Taste The International Flavors of Carnivals
For foodies, there will be more than 50 kiosks around the park featuring food and cuisine inspired by countries around the world. Sample dishes include a Crawfish boil, beignets, shrimp ceviche tostada, and black coconut rice pudding with mango, among others.
Dishes can be purchased individually or people can purchase the Food & Beverage Card for $65 – and get $75 in credit, plus a lanyard to use throughout the festival. People with unused credit from the 2022 festival can use those credits at the 2023 event. 
Here's what we know about 2023 Mardis Gras Tribute Store
Universaid said this year's Mardi Gras tribute store will be located in a new space in the Hollywood area of Universal Studios, and that it will feature "an international jazz celebration that leads to the traditional alleyways of New Orleans and ultimately into a speakeasy." There will be a variety of themed merchandise available to buy, including pins, shirts, and themed glasses.
Here's what we know about the Cursed Coconut Club
Few details have been released so far, but Universal confirmed that the Red Coconut Club, Universal's lounge at CityWalk, will be transformed into the Cursed Coconut Club during the 2023 Mardi Gras celebration. Additional details, including dates of operation, would be released later, Universal said.