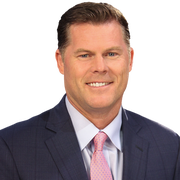 Ryan co-anchors Good Day Orlando every weekday morning. He also hosts Orlando Matters each weekend on Fox 35, a show that focuses on business and politics in the Orlando area. Ryan is very active in the local community including serving on a number of boards and he's a frequent host of political debates and charity events.
Ryan returned to Florida after anchoring in his home state of Indiana. During that time, he directed a popular consumer segment that returned over $100,000 to consumers. He enjoys reporting live from the scene of stories. During the George Zimmerman trial, he anchored from the Seminole County Courthouse throughout the entire trial.
Ryan has an extensive sports background. He worked as a Sports Director in Jacksonville, traveling with the Jaguars as the co-host of their television programming and as a sideline reporter for the Jaguars radio network. He also worked for FOX as a sideline reporter for numerous NFL games. During his time in Florida, Ryan covered several Super Bowls, National Championships with the Gators and Seminoles and countless races at Daytona.
Ryan graduated from Anderson University, near Indianapolis. He studied Mass Communications and Political Science and was a member of the baseball and golf teams. He also began his broadcasting career there as a News Director at a local radio station.
He has been very active in his local communities, including serving on a number of boards. Ryan's also a frequent host of political debates and charity events.
Ryan is married with two boys. His favorite activity, outside of time with family, is coaching sports. He has coached high school and youth basketball for several years, along with Little League baseball.
One of his favorite parts of the job is meeting new people. He lists President Bush, President Obama and Tiger Woods as his favorite interviews. Ryan has been honored with a number of awards, including an Associated Press honor for his news reports.