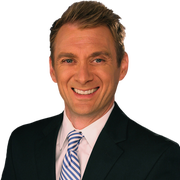 David Martin is an accomplished television broadcaster who recently celebrated a quarter century at FOX 35. In the past 25 years, he has checked off many boxes in the news industry: live field reporter, studio anchor, weathercaster, national correspondent, and most recently, has been highlighting people and places we love around central Florida for his daily segments, appropriately called "We Love Florida!".
David is a four-time Emmy Award winner who currently uses his platform at FOX to cover everything fun in Central Florida. He recommends adventures for families, suggests the best in food and drink, and highlights must-see businesses. By far, David's present-day role is the most impactful of his career: when he's live every morning, everyone wins.
After work, he spends as much time as possible with his teenage son and daughter, and his wife of more than twenty years, Nina. As a family, they enjoy skiing the Rockies, mountain biking, and theme parking. David is a classically trained percussionist who spends time daily banging drums, much to the annoyance of his neighbors he assumes. After that, you'll find him nose-deep in a New York Times crossword puzzle sipping on strong coffee or an austere whiskey. He learned the word 'austere' from said crossword puzzle.