NHC tracking 3 areas with chances of tropical development before peak hurricane season
ORLANDO, Fla. - The National Hurricane Center continues to track two systems in the Atlantic Ocean and one in the Gulf of Mexico. 
There's a tropical wave that's producing disorganized showers and thunderstorms a few hundred miles west-southwest of the Cabo Verde Islands, the NHC said in its latest update on Tuesday. Should the storm develop, it would be slow as it moves toward the west or west-northwest at about 15 mph across the tropical Atlantic through the end of the week. The storm has a 30% chance of developing in the next week. 
The NHC is also tracking another tropical wave that's forecast to move off the west coast of Africa later Tuesday or early Wednesday, the NHC said. The wave is forecast to move toward the west-northwest or northwest across the eastern Atlantic. As far as development goes, slow development is possible late this week or over the weekend. Environmental conditions are expected to become unfavorable for development by early next week. This tropical wave has a 30% chance of developing in the next week. 
A third tropical system could also develop in the western Gulf of Mexico early next week. "This tropical wave could add to our rain chances this weekend as it passes overhead," said FOX 35 Meteorologist Ian Cassette.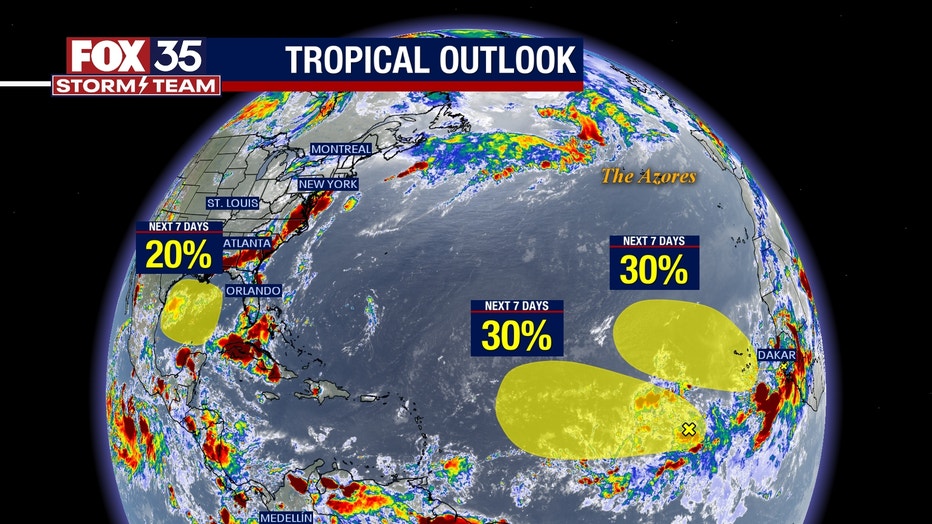 TODAY'S FORECAST: Heat and rain expected across Central Florida on Tuesday 
A friendly reminder – the peak of the Atlantic hurricane season is just around the corner. Don't let your guard down and always remember to depend on and trust the FOX 35 Storm Team.