10-year-old girl arrested for showing off combat knife to classmates at Florida elementary school: sheriff
DEBARY, Fla. - A 10-year-old girl was arrested for allegedly bringing a combat knife to school and showing it off to her classmates, according to the Volusia Sheriff's Office. 
The fifth grader was arrested and charged with possession of a weapon on the school campus, a third-degree felony. 
A Volusia Sheriff's Office deputy was called to DeBary Elementary School on Monday afternoon after a student was reported to have a knife in her possession on the school's campus, according to an arrest affidavit. The assistant principal told deputies that a student was allegedly displaying a knife in her classroom to other students. 
A student told the assistant principal that the girl saw the knife and saw her showing it to multiple classmates, the affidavit said. 
A school guardian immediately escorted the girl from the classroom to the assistant principal's office while her bag was searched. The knife wasn't found in her bag, but in her personal cubby by her desk in the classroom later on, the affidavit said. 
The knife was about 6 inches long with a 3-inch-long blade, according to deputies. The black knife with a fixed blade was described by officials as a "combat/stiletto style knife designed for stabbing," the affidavit said. The knife "was not an ordinary pocket knife," a deputy said in the report.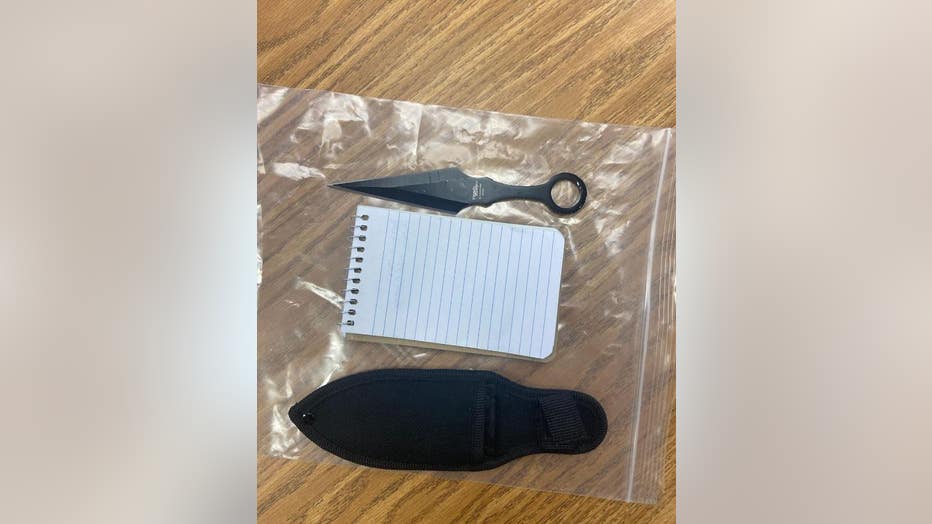 Photo: Volusia Sheriff's Office
RELATED NEWS:
The girl's grandfather was called to the school and told deputies he didn't know how she got into possession of the knife. 
She was arrested and transported to the District 6 office for paperwork processing before being taken to the Volusia Family Resource Center. 
News of this incident comes on the heels of a separate case at DeLand Middle School, where a 13-year-old student had a gun in his backpack. 
Sheriff Mike Chitwood posted a warning to parents on his social media platforms, urging them to search their bags, rooms, and cars for any weapons they might bring to school. 
"Guess my last message didn't reach all parents," Chitwood said Monday. "Today, a 10-year-old brought this knife to DeBary Elementary. Again- Parents, check what your kids are bringing to school. Check their bags, their rooms, their vehicles. Kids who bring weapons to school will be facing a felony."