12-year-old boys arrested for shooting BB gun at Hillsborough County deputy's vehicle
GIBSONTON, Fla. - Two 12-year-old boys have been arrested after the Hillsborough County Sheriff's Office says they fired BB guns at a deputy's vehicle, shattering its window. 
According to HCSO, a deputy was called to the area of Midway Street and Nundy Avenue in Gibsonton on Sunday for reports of kids shooting BB guns. 
While responding to the scene, the left rear window of the deputy's patrol car was shattered by a BB gun pellet. Neither the deputy, nor the recruit who was in the car with him, were injured.
"I'm appalled at the behavior of these two individuals," said Sheriff Chad Chronister. "They could have seriously injured someone and will now face the consequences for their actions."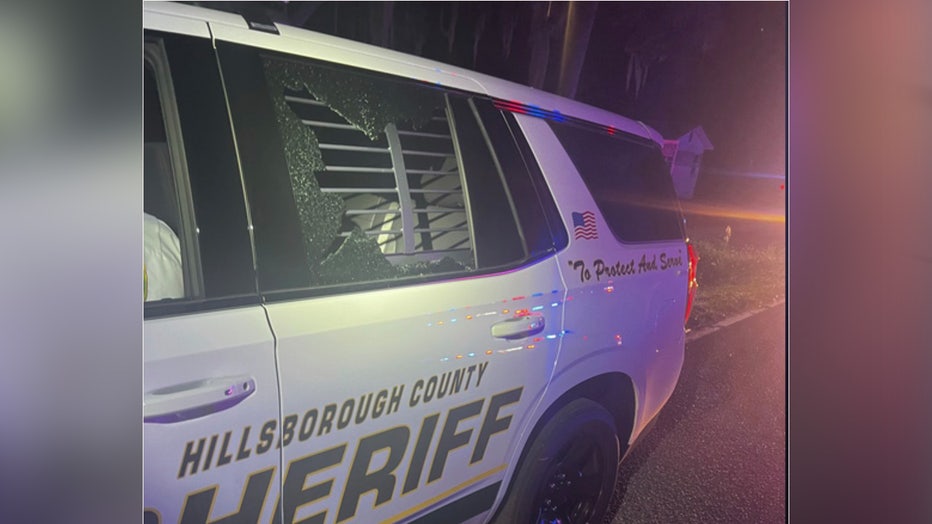 Two 12-year-old boys have been arrested after HCSO says they shot out a deputy's window with a BB gun. Image is courtesy of HCSO.
Two 12-year-old boys have been charged with two counts of throwing a deadly missile within or into a vehicle. 
"Our deputies say goodbye to their loved ones each and every day, not knowing what a shift may hold," said Sheriff Chronister. "We're lucky, in this case, that there were no injuries. But this could have ended differently had our deputy lost control of their vehicle or hit another driver after this occurred."
Anyone who was driving in the area around 5 p.m. on Sunday and may have had their vehicle damaged is asked to call 813-247-8200.