12-year-old girls remain in juvenile detention for allegedly spiking teacher's drink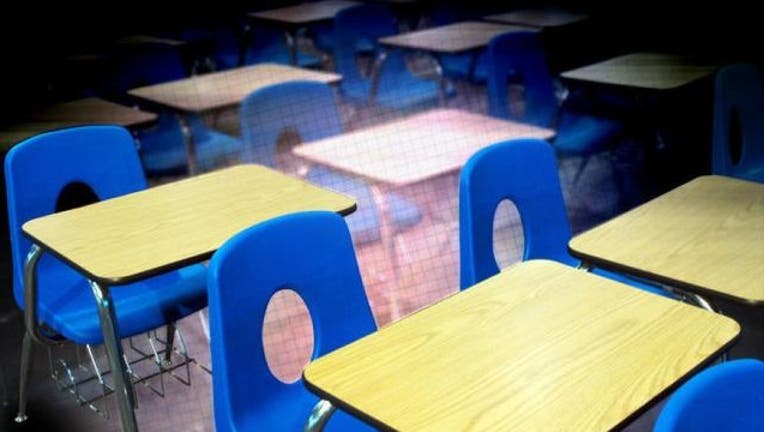 article
DELTONA, Fla. (WOFL FOX 35) - DELAND, FL—Three 12-year-old old girls will remain locked up after being accused of spiking their teachers drink. Volusia County Sheriff Deputies said the three Deltona Middle School students poured crushed spicy red pepper into their teacher's soda can earlier this week. Saturday morning the students made their first court appearance.
No cameras were allowed inside the courtroom but Fox35's Jackie Orozco was inside when the judge sentenced the girls to spend 21 days at the Volusia County Juvenile Detention Center until further order of the court.
The girls were transported to the Volusia County Jail to face a judge. They were shackled from their hands to their feet. Their parents, also in tears, watched them as they made their inside the courtroom.
They were arrested booked at the juvenile detention center on Friday. All three students have been charged with felonies: poisoning food or water and tampering with consumer products. 
According to deputies, the suspected ringleader didn't like that her teacher sent her to the principal's office on Monday. She was accused of stealing a laptop computer and dumping glue into another student's backpack.
Investigators say that student wanted to retaliate and grabbed some crushed red hot pepper from home. Volusia County deputies said a second student distracted the teacher while the third student poured the pepper into the teacher's soda.
We spoke with that third student's parents. They tell us she's a good kid, very quiet, and has never been in trouble before. In fact, they tell us their daughter was threatened by one of her classmates that got in trouble with the teacher, to pour the crushed red pepper into their teacher's drink. The parents also told us the felony charge of poisoning food or water was too harsh. The family said they plan to seek an attorney.
Deputies said the teacher couldn't breathe and eventually became sick from drinking the soda. Once Volusia County Sheriff deputies got involved they arrested the three 12 year old girls.
The judge had an interpreter on the phone for the parents to understand the charges. All the parents of the students were present and declined to say anything to the judge during the first appearance. The three girls will be back in court next week.