13-foot endangered fish found off Florida coast for first time in decades: 'I lost my calm and screamed'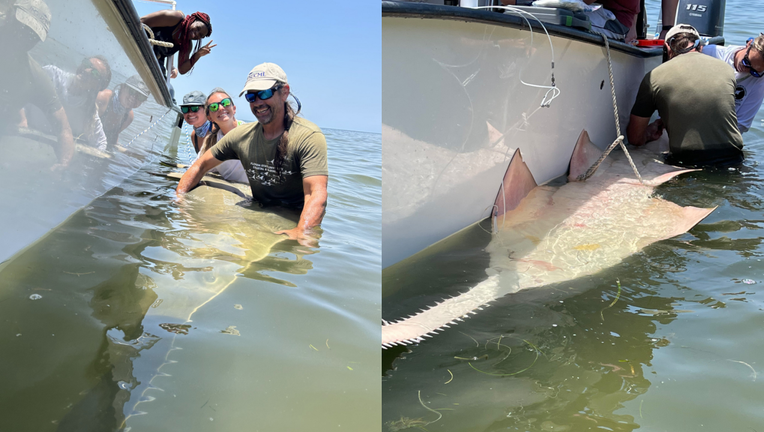 article
CEDAR KEY, Fla. - An endangered fish was found off the coast of Florida last month – and researchers are leaning toward the possibility that this species could make a comeback. 
The smalltooth sawfish was the first native marine fish to be listed in the Endangered Species Act in 2003, according to a report from the Florida Museum. Now, 20 years later, a sawfish was found in Cedar Key, making it the furthest north a sawfish has been tagged in the last 30 to 40 years, said Gavin Naylor, director of the Florida Museum of Natural History's shark research program.
The 13-foot adult female sawfish was caught, tagged and released on June 6 during a shark field course co-taught by Naylor and Dean Grubbs, the associate director of research at Florida State University's Coastal and Marine Laboratory. He's also a member of the U.S. Smalltooth Sawfish Recovery Implementation Team, which works with the National Oceanic and Atmospheric Association's Fisheries division to recover the sawfish population throughout the country through education and protection. 
When the team realized they'd caught something, they were surprised to find out what it actually was.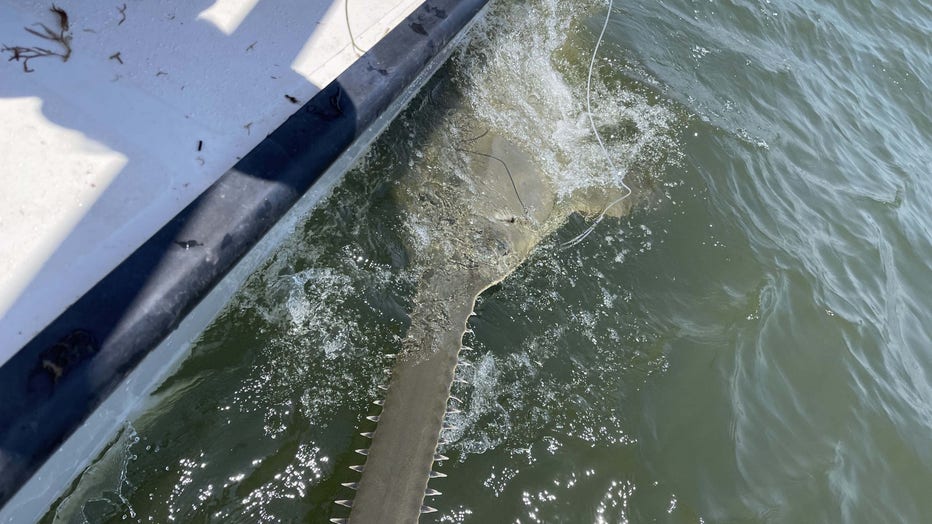 Photo courtesy: Derrick Biglin/via Florida Museum/University of Florida
"I felt something heavy on the line, and my first thought was that it was likely a nurse shark," Grubbs said. "I was pretty sure this was a sawfish, but I remained stone-faced because I didn't want to disappoint the students if I was wrong. I saw the tail before the rostrum, so I lost my calm at that point and screamed, 'Sawfish! It's a sawfish!'" 
Grubbs and his students quickly and carefully restrained the sawfish while someone headed back to shore to grab a tagging device. They didn't have one on board, because, well, they didn't think they'd need it. 
MORE ANIMAL NEWS: 
Now that the sawfish is tagged, researchers can track its movements for the next 10 years as part of a multi-agency effort to monitor their population.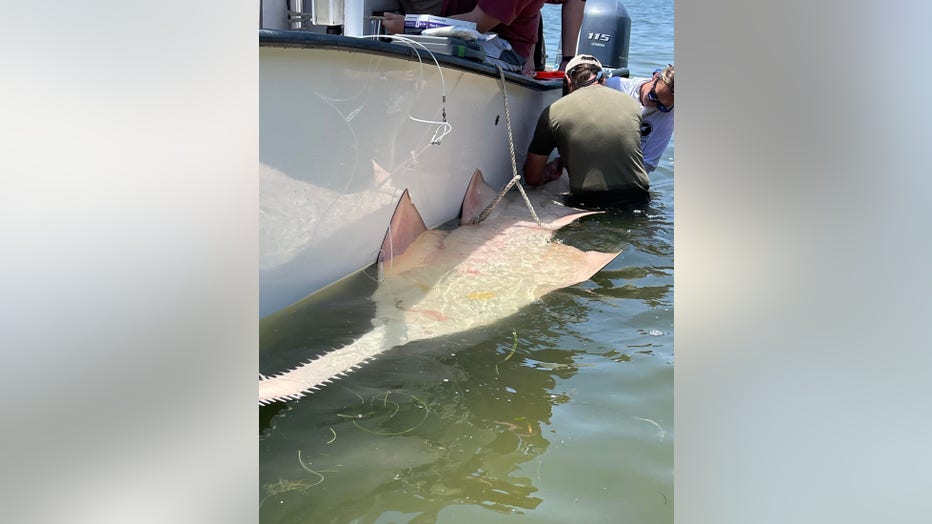 Photo courtesy: Derrick Biglin/via Florida Museum/University of Florida
The research team also noticed mating scars on its fins and sides – the males bite the fins of their female partners before mating, researchers said. Since it takes sawfish several years to reach the age they can reproduce, these scars are a positive sign that the species is on the rebound, the report said.  
"What's remarkable to me is that they're creeping back into exactly the previous habitats and range from which they've been extirpated," Naylor said. "It's as if they have a deeply embedded knowledge of where to go."
Historically, smalltooth sawfish were most commonly found near Florida but could have been found in Texas and as far north as North Carolina. Now, though, if a smalltooth sawfish is found, it's usually only off the coast of Florida, researchers said. 
The smalltooth sawfish, often confused for other species of sawfish, is known for its long, flat snout edged with teeth that looks like a saw, according to the NOAA.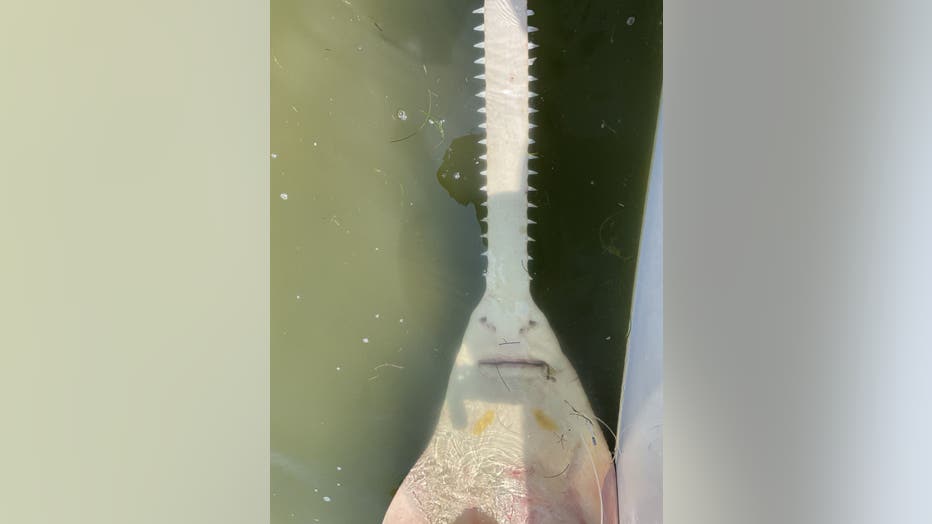 Photo courtesy: Alex Tate/via Florida Museum/University of Florida
The smalltooth sawfish population has declined by over 90% throughout the 20th century. Their habitat is mostly threatened by wide scale coastal development, which reduced the number of mangrove forests. Sawfish use this ecosystem as nurseries. Bycatch is also another threat – the accidental catching while fishing for other species, according to the NOAA. 
All in all, Grubbs' students couldn't have had a better learning opportunity – even if they tried.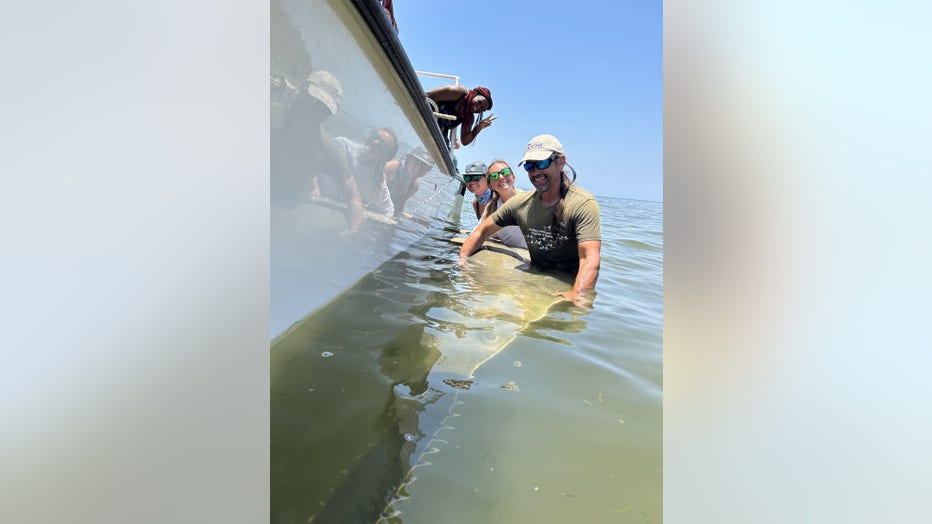 Photo courtesy: Derrick Biglin/via Florida Museum/University of Florida
"I can't think of a better way for a group of young people studying environmental and conservation biology to learn about this critically endangered and incredibly spectacular animal," Grubbs said. "So much of the news about Earth's climate and environment is doom and gloom, but this is a potent reminder that if you leave things alone, many species are capable of recovery."