13-year-old Florida boy shares how he survived alligator attack
WINTER SPRINGS, Fla. - A 13-year-old Florida boy who was attacked by an alligator on Tuesday evening in Winter Springs is now sharing his story of survival. 
"Once he grabbed on, I knew that if he didn't let go, there was no getting him off because his jaw was so tied on. There's no getting out of that," Gabriel Klimis said.
He was playing with his friends at Howell Creek Trestle when he decided to jump off a rope one last time. But a nearby alligator had a different game in mind.
"One of my feet was on the sand and then the gator got my other one and then pulled me back," Gabriel said.
He tried to keep himself out of the water by holding onto a stick and fighting back. 
"He kept pulling, so then I just try to hit him … and then he let go ... and then I ran up as fast as I could," Gabriel said.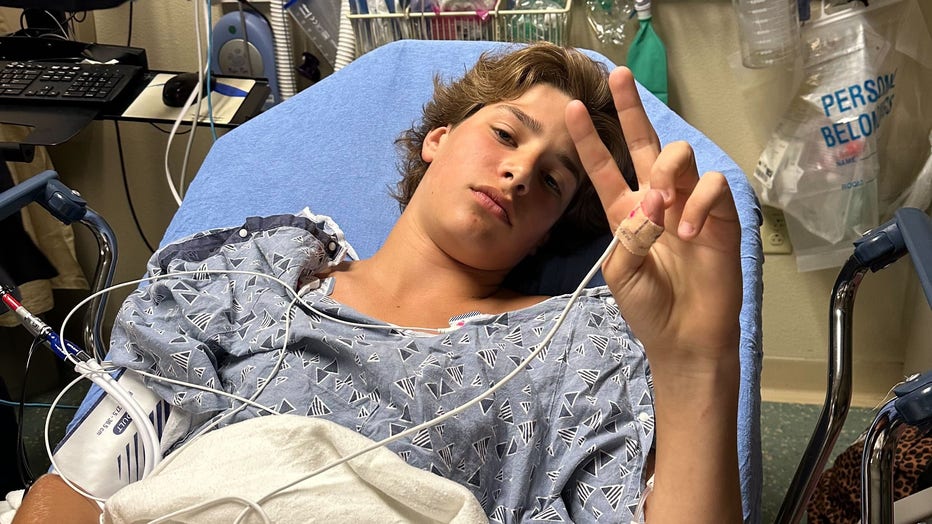 After running to the nearest house to ask for help, Gabriel called his mother, who couldn't believe what he was saying. 
"Complete shock. Terror, of course. Super scared. I told him to call 911, and I would be right there," Allison Klimis said.
Medics took Gabriel to the hospital where he received stitches for the bite marks on his right leg. Both he and his mother are thankful he didn't lose any limbs or his life. 
"In the end, I'm just blessed, grateful, thankful that the angels were watching over him and God was there because I know without that, my son could definitely be gone," Allison said.
If you think this terrifying encounter with an alligator will keep Gabriel out of the water, think again. 
"I guess I kind of learned my lesson, but at the same time, it's not going to stop me from swimming somewhere else, like in a different creek or something, with my friends and having fun," he said.
The Klimis family says a nuisance trapper killed an alligator in the creek Thursday, but it's unclear if that's the same one that attacked Gabriel.