Alligator with missing jaw gets a new name inspired by Dolly Parton
ORLANDO, Fla. - Just like Dolly Parton's classic tune, an alligator that's been making headlines for missing its upper jaw has her own share of trials and tribulations. But now, she's singing a different tune. 
Meet "Jawlene," the "gem" of an alligator that's been settling into her new home at Gatorland over the past couple of weeks. After dozens and dozens of people suggested names for the unique critter, the wildlife facility said they finally settled on one to honor "another American treasure," Dolly Parton. 
"She looks like a Jawlene!" Gatorland staff said in a Facebook video on Wednesday about the 4- or 5-year-old gator who was captured after a weeks-long search. Gatorland still hasn't officially shared why the alligator is missing part of its mouth, but a wildlife trapper said it looks like a propeller got her. Gatorland said she could have been living in the wild without an upper jaw for at least six months, eating things like snails and frogs.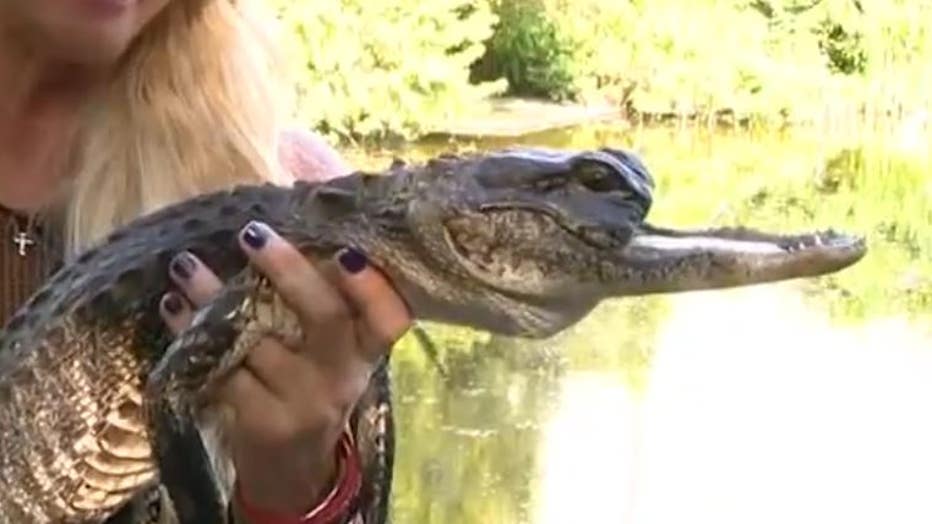 Gatorland also shared an update about Jawlene's health, saying she ate two mice Wednesday all on her own. Since she's missing the upper part of her snout, she ate the mice by throwing it back into her throat with her tongue before swallowing them. She's gained 0.3 grams of weight so far.
"The vet said he's completely impressed with not only the way she eats, but that she's eating this soon in a new environment," staff continued. 
Right now, Jawlene is currently still being kept in isolation in her own private pool. 
"We're real proud of her," staff said. "We're just letting her settle down in her routine."
Gatorland said some people have asked about potentially getting a prosthetic snout for Jawlene, but staff said they don't want to stress her out while she's still getting comfortable.