'Hoping I don't die': Amazon delivery driver said he feared for his life when held at gunpoint
ORLANDO, Fla. - An Amazon Driver is speaking out, warning everyone to be on alert, after he was robbed outside an Orlando-area apartment complex. The dramatic moments outside the Caden Apartments on Americana Blvd. were recorded on a camera inside the Amazon truck's cabin.
"It's frightening… almost hoping I don't die." That's how Amazon driver Louis Rodriguez said he felt as a robbery suspect pointed a gun at him.  The 22-year-old said it happened right after he had finished a delivery and noticed someone in his truck.  "I was trying to grab the bag that he was trying to grab."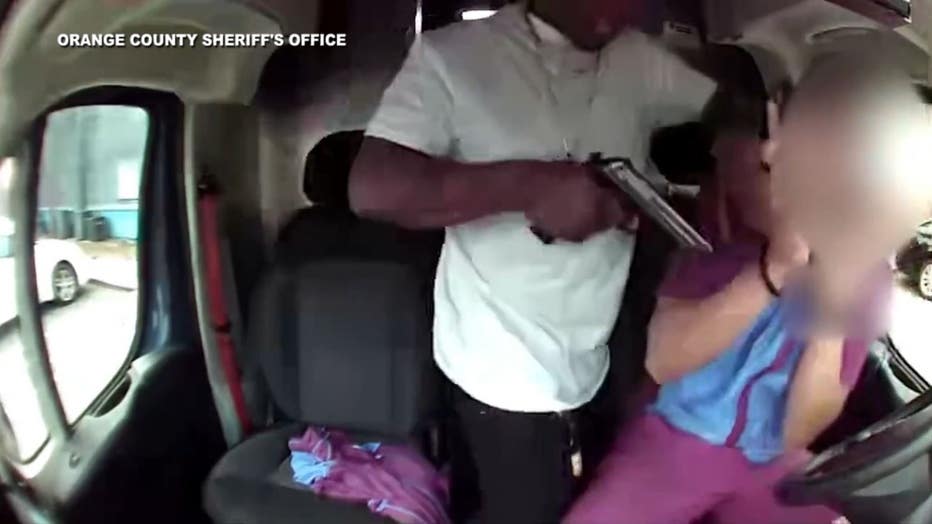 In the video, you can see one suspect get out of the truck as another comes up from behind with a gun. "He was like, 'If you don't give me the right thing, I'm going to shoot you or kill you.'  I was like alright man." 
That's when Rodriguez said he gave up his cellphone, debit card, pin, and watch, but losing his custom-made wallet really upset him. "Black wallet with red lining, even says my initials at the bottom."
Rodriquez said he wasn't physically injured. "Mentally, maybe a little."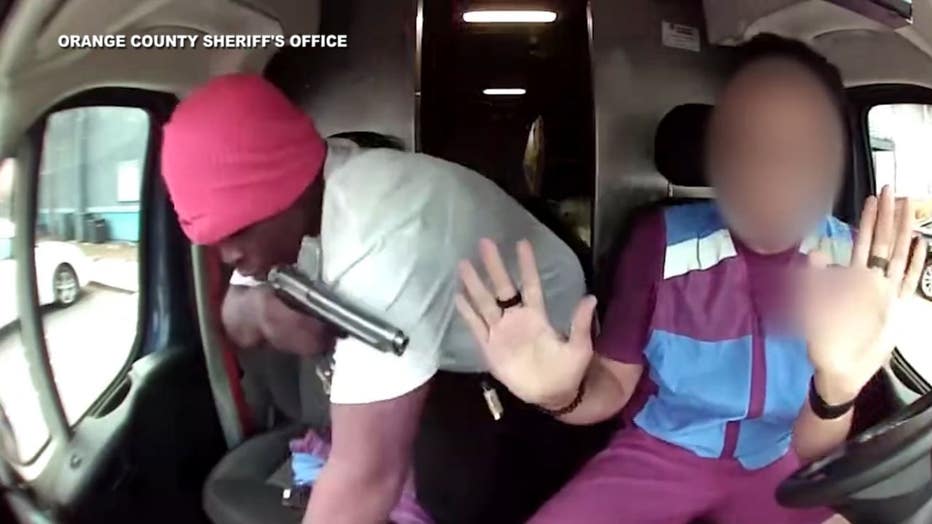 Orange County deputies identified the suspects as 23-year-old Arkimase Divinard and 24-year-old Joel Aime who were later arrested. Two days after this alleged Orange County robbery, Osceola County sheriff's deputies said Amie was caught on surveillance burglarizing Preston's Auto Salvage shop in Kissimmee. The owner called for help right away and deputies caught him. 
"When I seen that it was scary," said Robert Glover, of Preston's Auto Salvage.
According to court records, Divinard has 41 felonies and six felony convictions.  Aime has 45 felonies with five felony convictions. 
So why were both out of jail? We discovered there were several cases not suitable for prosecution. We reached out to the State Attorney's Office for comment and had not heard back at the time this story was published. 
"That's a little too much for someone to be coming out even after a 20th conviction," Rodriguez said.
"When does it end? Do we wait till it gets to 100, and then we start finding something more suitable to prosecute?" Osceola County Sheriff Marcos Lopez asked. 
Rodriguez hopes both suspects remain in jail. "That should be suitable for prosecution to keep them behind bars longer."
As for his job, Rodriguez said, "I haven't gone back to work, because I'm more frightened of going to that same area."  He said that next time he won't try to stop a crime but will call for help instead and hopefully stay safe.