Black bear caught on camera wandering through Carrollwood, Lutz neighborhoods
CARROLLWOOD, Fla. - Home security cameras recorded a black bear walking through a neighborhood in the Carrollwood area of Tampa early Monday morning.
The video, which resident Cynthia Bencomo shared with FOX 13, shows the bear lumbering across her driveway and into the neighbor's yard at around 1:15 a.m.
"Insane," said Cynthia, who told FOX 13 her husband was awake at the time and was shocked to see the animal show up on his front door camera. "Where in the heck did a bear come from? We're looking at the map. Where's the forest in this area, like some sort of wilderness? There's not anything remotely close in this area, so he must travel far."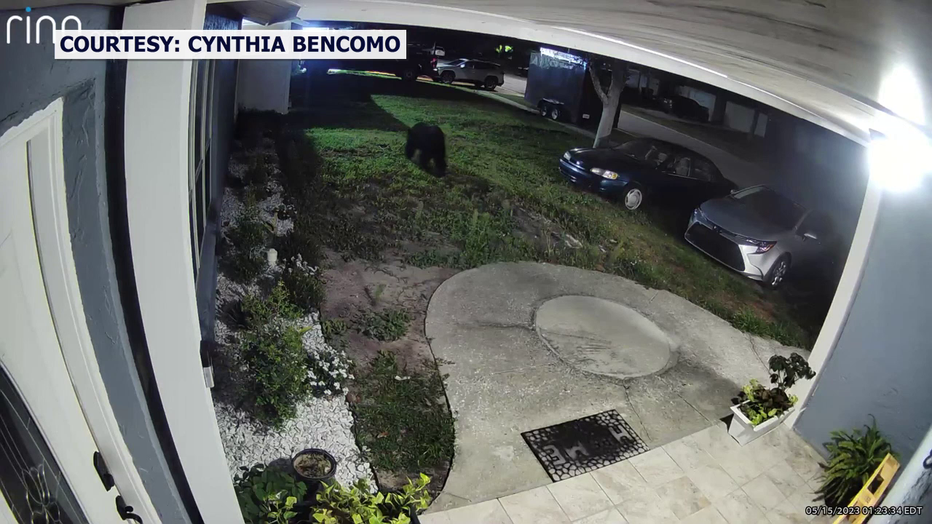 Kirby Lavallee told FOX 13 surveillance video at his Lutz home captured a black bear just two nights before.
WATCH: Curious black bear breaks into truck in Colorado, steals bag
Experts with the Florida Fish and Wildlife Conservation Commission believe the bear most likely traveled from the Ocala or Green Swamp areas, where there are larger black bear populations.
Michael Orlando, FWC's bear program coordinator, said the bear is likely one and a half to two years old, which is the age when bears leave their mothers in search of a new home range.
"Right now, we have lots of young juvenile dispersing animals," Orlando said, adding FWC is not planning on trying to trap the bear for now. "We generally don't mess around with bears. We try to let them make their way and realize this isn't a place that they want to be."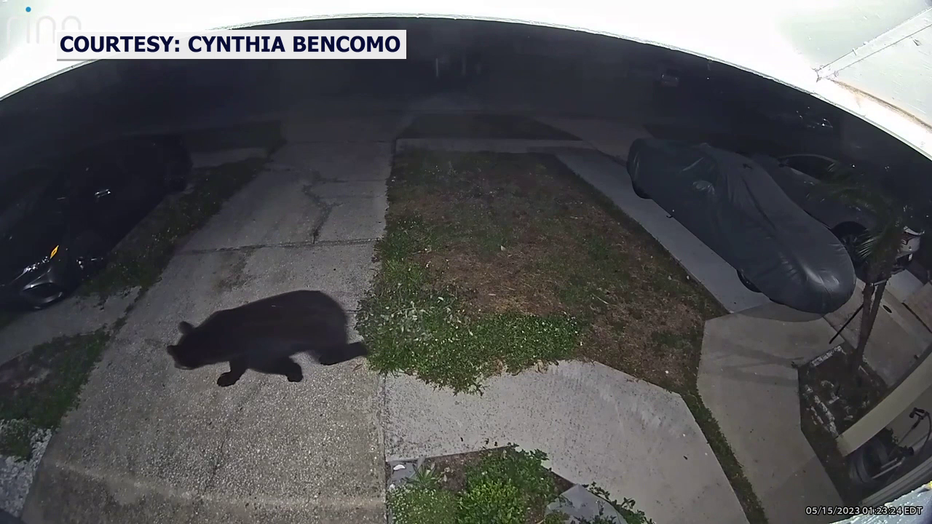 FWC said at around the same time Bencomo's cameras recorded the bear, there was a report that a driver hit a bear, but the animal is believed to be okay. It was gone by the time FWC officers arrived.
MORE: Florida deputies help hawk 'snake' his way out of deadly situation
According to Orlando, bear sightings have been on the rise recently, but they're rare in the Tampa area.
"Of course [I'm concerned]. I have a baby," said Bencomo. "We have to be very careful when we come out at night. And of course, bears can climb the trees that we have trees in our backyard. It's scary to think about just kind of wandering around everywhere."
Wildlife experts are urging residents to call FWC if they see the bear, while also cautioning neighbors to be careful and don't try to approach or feed it.