'Cartel' kidnappers used Florida Airbnb, fake badges, police lights to abduct and waterboard wrong guy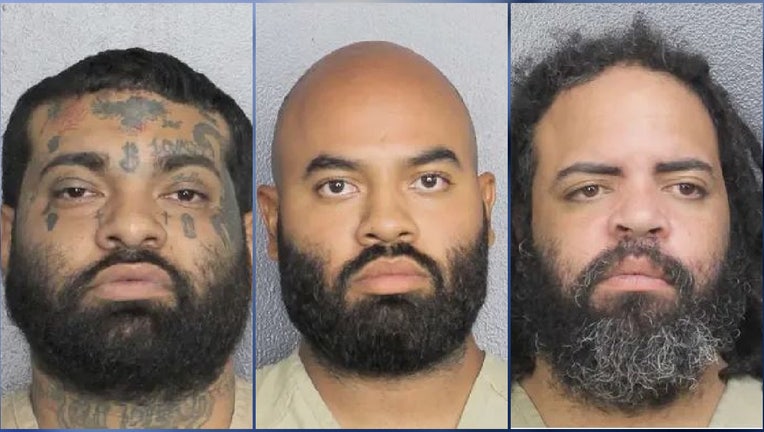 article
FORT LAUDERDALE, Fla. - Three men are accused of abducting a Florida man in Fort Lauderdale at gunpoint, waterboarding him and then trying to enlist his help in their plot when they realized they'd taken the wrong person, according to a federal indictment unsealed Tuesday. 
The alleged victim played along until he got away long enough to call in a bomb threat that sent a massive police response to the rescue, authorities said.
The suspects are two brothers, Jeffry Arista, 32, and Jonathan Arista, 29, and a third man named Raymond Gomez.
They allegedly snatched a man in a parking garage outside his Fort Lauderdale home around 7:30 a.m. Oct. 13, wearing fake badges and forcing him into the back of a Dodge Charger with police-style lights, according to court documents. 
But the plot fell apart when they realized the person they'd abducted wasn't the one they'd been hired to take.
The whole mess is "typical" of Colombian cartel activity, according to Pat Diaz, a retired Miami-Dade homicide detective who investigated the infamous "Cocaine Cowboys" case.
MORE HEADLINES:
"You would think that when they put out a hit, they hire a professional," he said. "They don't. … It sounds like he owed money, they hired some guys off the street who had no clue and, boom, it's a case the 'Keystone Cops' could crack."
Something similar happened to Pedro "Peggy" Rosello, the former husband of "Real Housewives of Miami" star Alexia Echevarria. 
He became a witness in the "Cocaine Cowboys" case and survived an assassination attempt when the hitmen arrived while their target wasn't home, gave up and went to a bar, according to Diaz. 
The Fort Lauderdale trio allegedly threw their abductee's phone out of a moving vehicle, according to authorities, but later gave him a new one when they needed his help contacting their actual target.
They brought him to an Airbnb rental in Plantation, Florida, and allegedly threatened him with pistols, stun guns and an electric drill before waterboarding him in the bathroom.
They held him for about 12 hours before hatching the alleged plot to use him as bait for their intended target, who they discovered was his coworker.
Using the replacement phone, they learned the actual target was at an unnamed business in Pompano Beach.
According to investigators, they drove the abductee there in a rented Porsche, and he went inside, warned the actual target and called in a bomb threat, prompting a rapid police response, according to the Justice Department.
When police arrived, they arrested Jeffry Arista as he lingered to record the victim on cellphone video, according to the indictment. The other two men tried to flee in the Porsche but crashed down the street, according to the indictment. Authorities arrested Jonathan Arista there.
Jonathan Arista later told police he and his brother had been approached by "someone" three days earlier and were coerced into the plot. 
"When asked to go into detail about the 'event,' Jonathan Arista claimed that he feared for his life if he provided additional information and terminated the interview," according to prosecutors. 
The day after the abduction, police staked out the Airbnb and allegedly saw two men cleaning up the house and wiping the front doorknob clean before leaving in a Honda. They followed it, and Gomez allegedly got out at a red light and tried to run away on foot.
He was taken into custody, and the other man told detectives Gomez had called him after the Porsche crash and asked to be picked up before asking for help cleaning up the Airbnb rental, which he claimed he'd rented with "some friends," according to the indictment.
Gomez allegedly confessed to having been hired by an "unknown male" to abduct the target over an unpaid debt.
Fox News' David Spunt and Julia Bonavita contributed to this report.