Danelo Cavalcante: Escaped killer spotted near Phoenixville; stolen van found abandoned
PHOENIXVILLE, Pa. - An escaped murderer on the run for more than a week in southeast Pennsylvania was spotted with what police called "a changed appearance."
Pennsylvania State Police said in a statement early Sunday that Danelo Souza Cavalcante was seen overnight near Phoenixville in northern Chester County. Later, the focus of the search shifted away from Phoenixville, to other parts of northern Chester County. Cavalcante was operating a 2020 White Ford Transit van. Through tips, law enforcement discovered he stole the van, able to take it easily as keys were left inside.
In an afternoon briefing, PSP Lt. Col. George Bivens explained troopers found the white van abandoned in a field in East Nantmeal Township, in Chester County, at 10:40 a.m. Sunday morning. Police focused their search on that area eventually shifting their efforts to the area of Fairview and Wynn Hollow roads.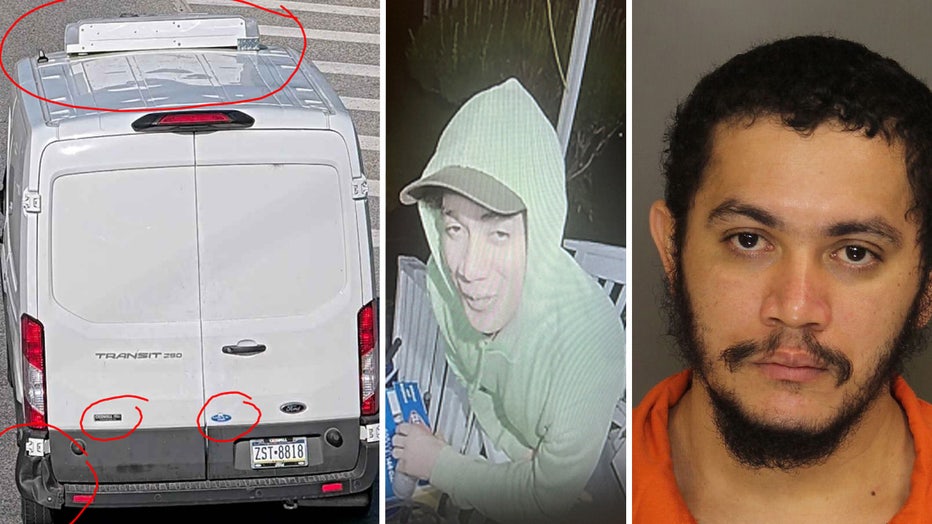 New photos said to show Danelo Cavalcante clean-shaven in a hat and hoodie were released by state police overnight.
Cavalcante is now clean-shaven and wearing a yellow or green hooded sweatshirt, black baseball cap, green prison pants and white shoes, the statement said.
It was explained Cavalcante was able to slip through the perimeter at some point Saturday evening, taking the white van of a nearby business near Longwood Gardens. Police say Cavalcante went to a former work associate's home around 9:52, talking through a ring doorbell camera where the new Images were captured.
The homeowner wasn't home and when they reviewed their footage around midnight they called police to let them know.
An additional sighting at a residence in Phoenixville happened Saturday, at 10:07 p.m. Cavalcante stopped at a home of another former work associate, asking for help. The person he sought was not there, but a female resident saw him, called a friend, who called local police. Local police contacted PSP.
Surveillance photos that depicted Cavalcante and his new appearance were released by Pennsylvania State Police Sunday morning.
It was also confirmed by Lt. Col. Bivens, Cavalcante's sister has been arrested by U.S. Immigration and Customs Enforcement (ICE) and is possibly facing deportation. Officials believe Cavalcante has been seeking help from people he knows in the region.
A former roommate of Cavalcante spoke with FOX 29's Eddie Kadhim, saying Cavalcante lived there about four months and moved out a few days before he killed his ex-girlfriend.
"Did he seem like an evil person when you knew him?" Kadhim asked.
"No, not at all," former roommate Franco Rosa replied. "He was a really quiet guy and a shy guy."
Rosa says he assisted police with the murder investigation and is offering any help0 he can now. "I don't want him free anymore. It's not just me. If I'm nervous, can you imagine the ex-girlfriend's sister who's taking care of the two kids? They are super scared. My cousin has kids in school in Phoenixville. They are scared, too."
Phoenixville is about 25 miles away from Longwood Gardens and the search areas teams have been combing for well over a week in their search for Cavalcante. It's about 13 miles from Chester County Prison.
Early Saturday morning authorities revealed that there were two confirmed sightings of Cavalcante within the search area Friday.
Danelo Souza Cavalcante, 34, escaped from the Chester County Prison while awaiting transfer to state prison on Aug. 31 after being sentenced to life for fatally stabbing his ex-girlfriend in 2021. Prosecutors say he wanted to stop her from telling police that he's wanted in a killing in his home country of Brazil.
Authorities, who have described Cavalcante as extremely dangerous, didn't release details about the sightings but said they occurred Friday within the search area focused around the now-closed Longwood Gardens botanical garden in East Marlborough Township, where the fugitive inmate has been spotted several times.
Authorities believed Cavalcante, spotted more than a dozen times since his escape, has managed to obtain clothing and other supplies.
Pennsylvania State Police Lt. Col. George Bivens said Friday that about 400 personnel were taking part in the search of the southeastern Philadelphia suburbs, farmland and the vast botanical garden, including tactical teams in full combat gear, tracking dogs, and officers on horseback as well as aircraft.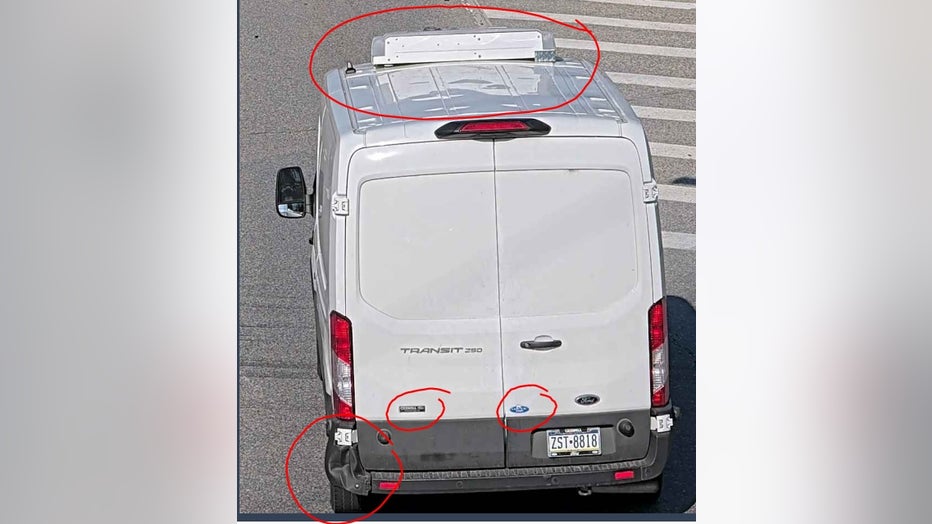 Authorities are seeking the public's assistance in locating a 2020 Ford Transit van. Investigators believe fugitive Danelo Calvalcante stole the van.
Longwood Gardens, closed indefinitely after the sightings, sprawls across nearly 200 acres (80 hectares), with paths winding through gardens, an outdoor theater, ponds, fountains and meadows, and structures including indoor gardens, treehouses and a restaurant.
Officials on Friday announced the firing of the prison tower guard on duty when Cavalcante scaled a wall by crab-walking up from the recreation yard, climbed over razor wire, ran across a roof and jumped to the ground. His escape went undetected for more than an hour until guards took a headcount. 
The guard, a corrections officer for 18 years who was put on administrative leave after the escape, also had his personal cellphone on him at the time, a violation of jail protocol, county spokesperson Michelle Bjork said.
There's now a $20,000 reward for information leading to the capture of Cavalcante, whose escape has attracted international attention and became big news in Brazil. The main newspaper in Rio de Janeiro ran a lengthy story Wednesday with the headline "Dangerous hide-and-seek."
Prosecutors in Tocantins state have confirmed that a criminal case attributes "the crime of double qualified homicide to the defendant Danilo Souza Cavalcante." Authorities allege that Válter Júnior Moreira dos Reis was killed in 2017 in Figueirópolis over a debt the victim owed Cavalcante in connection with repair of a vehicle. The case is being handled by a court specialized in combating violence against women and crimes against life.
Anyone who may have seen Cavalcante or the van he's operating are asked to contact police immediately.