DeLand mobile home park severely damaged by storm, some residents displaced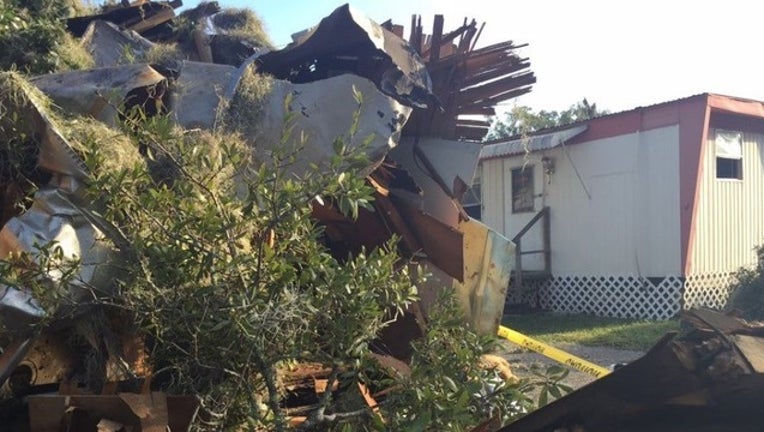 article
DELAND, Fla. (WOFL FOX 35) - Hurricane Matthew's destructive power is being felt days after the storm has passed. Kody Nichols, who's mobile home was destroyed, told Fox 35's David Williams "It's just real tough just to pick up the pieces and try to move on, rebuild."
Nichols evacuated his mobile home at Sha-De-Land mobile park. He came back to a destroyed house and car. "A sickness. The worst feeling, you know."
Nichols said had he and his family been home during the hurricane, his daughter would be sleeping in the crushed room where a large tree now rests. "Thankful at this point we're all here," Nichols explained. "We're alive."
Though some neighbor's left, others decided to stay. Helen Preneta, who also lives in the mobile home park said she just didn't want to leave. 
Nichols said now he's focusing on rebuilding. "We're gonna do our best. We're gonna have to." He explained. "We've got a 6-year-old daughter to support."
Rose Wilson's property also suffered severe damage during the hurricane. "I was like 'Oh my God'" Wilson told Fox 35's David Williams. Wilson's two cars are destroyed. "We are very very lucky we're still alive." Wilson said.
Wilson  was inside her home at Sha-De-Land mobile home park when a large tree came crashing down during Hurricane Matthew. "All of a sudden I heard this very soft "plop. Puff" and I looked outside." She explained.
Wilson told Fox 35 the huge tree was leaning toward her home before it fell. She says it's a miracle it fell straight down, and not a foot to the left, on top of her home. "I am thankful to God, and it's only because of him we are alive," she explained. "If this is all I lost, I'll be okay."
Other neighbor's wound up staying too, despite Governor Scott's strong call to evacuate. Fox 35's David Williams asked Helen Preneta why she decided to stay in her mobile home said she couldn't leave her pet cats. 
Everyone at the mobile home park told Fox 35 they're just thankful no one in the neighborhood was hurt or killed.