Tallahassee on alert after FBI memo to capitals
TALLAHASSEE, Fla. - A repeat in Tallahassee of what happened in Washington D.C. or at any other state capitol is a non-starter for Florida's governor.
"I do not care why you are doing it. You are not doing it here," Gov. Ron DeSantis said at a news conference in the Villages on Tuesday.
He said any type of disorder will be met with reinforcements after the FBI warned state capitals that they're investigating armed groups in fifty states for planning to stage uprisings. 
RELATED: FBI bulletin warns of nationwide armed protests leading up to Biden's inauguration
It's unclear as to what is planned in Florida, which is reportedly vastly different from state to state.
"Here in Florida, our election was a slam dunk for the President. so I'm really not expecting that here," said State Rep. Scott Plakon (R-Longwood).
RELATED: Video captures DC police officer being dragged down Capitol stairs amid chaos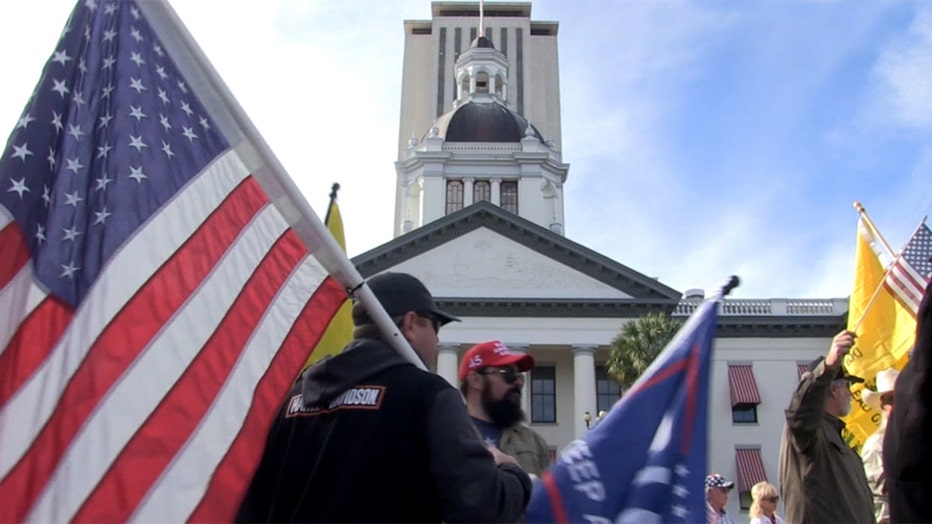 Courtesy News Service of Florida
State senate president Wilton Simpson wrote to members and staffers Tuesday, saying it is very likely we will have protestors gathered outside on Sunday, Jan. 17th, though, "there have been no threats to our safety." 
He said, "We have also made significant enhancements to the physical security of the senate. These enhancements, while confidential, are designed to ensure the safety of all those who visit and work in the Senate." 
RELATED: 'Lectern guy' suspected in U.S. Capitol riot released from jail after Tampa court appearance
State Rep. Anna Eskamani pointed out on Twitter that elected officials won't be there, but staffers will be.
"Our capitol can be just as vulnerable as the U.S. Capitol," said Eskamani.
The governor also said he was not aware of any specific attack plans, but he points out the state legislature will soon take up his bill that increases penalties for rioters.
RELATED: Trump acknowledged he bears some blame for Capitol riot in conversation with House Republican leader: sources
"That would not be advisable for people to want to do that in the State of Florida," said DeSantis. "Our legislation is going to pass this session. If you riot, you are going to jail, and you are going to spend time in jail.
The governor also said that he hoped the arrests and prosecutions, that are now piling up, will show people that political violence is simply not acceptable in the United States.