Disney World welcomes these rare, precious twin monkeys into Animal Kingdom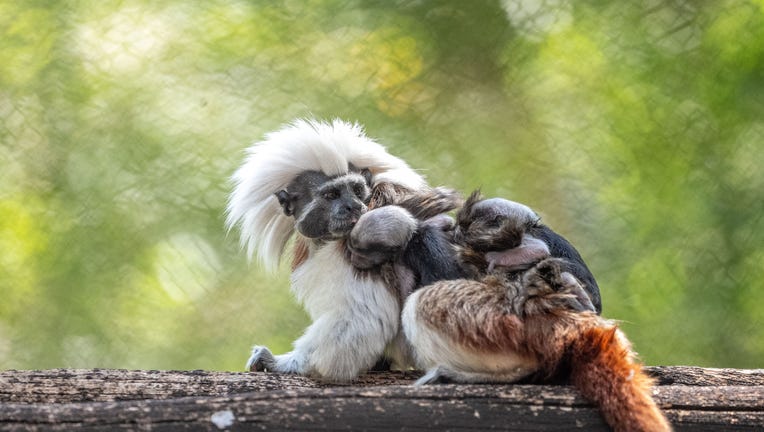 article
ORLANDO, Fla. - Walt Disney World welcomes an adorable set of twin cotton-top tamarin monkeys into Animal Kingdom. 
The pair was born in Animal Kingdom, and are about four inches long, clinging to their mother's back. In a press release, Disney's animal care team is ecstatic about these two as they are the first cotton-top tamarin births at Walt Disney World since 2001.
"As first-time parents, both mom and dad are doing great, sharing the parenting duties," Disney states in a press release. 
As infants, they are completely dependent on their families for survival for up to the first 14 weeks. The twins can be seen cozied up with their parents as they leap from branch to branch throughout their habitat. 
Walt Disney World welcomes cotton-top tamarin twins into Animal Kingdom. ( Aaron Wockenfuss/Walt Disney World)
Though not so common for humans, the cotton-top tamarin typically has twins though being a critically endangered species. Cotton-top tamarins only have about 7,500 remaining in the wild. 
These creatures are critically endangered due to the illegal pet trade and extensive deforestation and loss of habitat. 
The birth of the twins is one example of Disney's partnership with the Association of Zoos and Aquariums' (AZA) Species Survival Plan, to ensure the future of endangered species. 
Disney also partnered with the non-profit Proyecto Tití to protect these cotton-top tamarins in their natural habitat in Columbia. Disney has helped more than 180 local farmers to establish conservation forest corridors, protect more than 5,500 hectares of forest, and plant more than 100,000 trees.