Emotional reunion for man and his service dog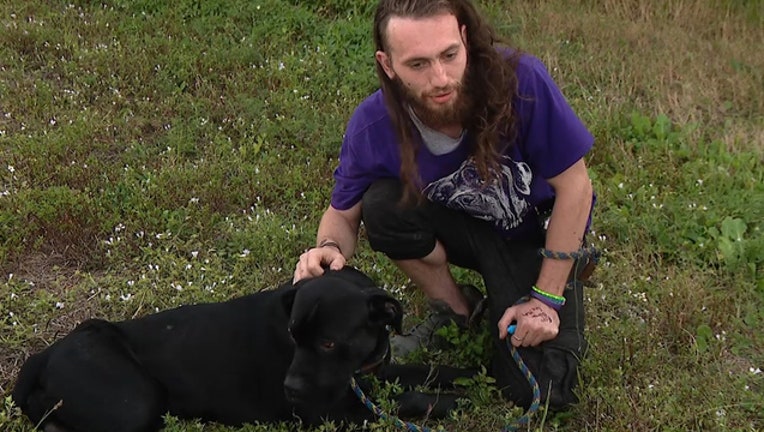 article
MERRITT ISLAND, Fla. (WOFL FOX 35) - After two weeks of worry, an Indiana man visiting family in Merritt Island, Florida has his service dog back.  
Ryan Crum and his two-year-old Italian Mastiff, Simba, had an emotional roadside reunion Sunday.
"He was peeking out underneath these bushes; he was kind of kind of timid.  When he realized it was me, he came out right here, pushed me into the guardrail and was just covering me in kisses. It was awesome. I started crying," said Crum.
Crum had gone to a dentist appointment December 17 when his mom let Simba out to play the back yard of her Merritt Island home.  Somehow, Simba slipped the backyard fence and was nowhere to be found by the time Crum got home.  
"I literally searched for him for about 24 hours," said Crum.  He also started hanging posters and posted about his missing pup on several social media sites. Several people he didn't know joined the search, including a man who flew his drone over an area where they believed Simba could have been.
Four days into the search, Crum got a concerning message.
"One a gal had said she had seen him get hit by a car and let me know he was limping. That kind of freaked me out a little bit," said Crum.  
Then on Sunday, he got an urgent call from another stranger.  
"She was stopped out here said she had seen him and she was going to park and keep an eye out for him and he'd gone into the brush," said Crum.
He immediately drove out to Merritt Avenue at Sykes Creek near where the woman had just seen Simba.  
"There were fresh prints headed out this way," said Crum.  
He followed those paw prints, eventually finding Simba hiding in the bushes between a busy road and the creek.  He was injured.
"He got hit up on the mouth right here. He got a little bit of road rash right here."  
Simba's vet determined he's got a broken femur.  Despite injuries and losing more than 20 pounds in the two weeks he was out on his own, Simba is in good spirits.  He's happy to be back with is dad and won't leave his side.
"I honestly can't thank this community enough. So many shares, so many people reaching out to us," said Crum.
Simba is scheduled to have surgery to fix his broken femur in two weeks.