Explosives detection K-9 recovers after surviving alligator attack: 'He still loves to work'
SEMINOLE COUNTY, Fla. - An explosives detection K-9 who survived an alligator attack months ago is on a mission, along with his owners, to thank the doctors and nurses who helped save his life.
"I think I cry every day, actually, out of just tears of joy," Kylee Nyiri said.
Nyiri, her boyfriend, and Mako were hanging out at Riverside Park in Oviedo back in May, something they often do, but this time, it ended with a trip to an emergency veterinarian. Nyiri said a ball Mako was playing with fell into the water, and a current pulled it away. As he went to chase it, so did an alligator nearby.
"It was so fast, it pretty much just grabbed him and pulled him under," she recalled.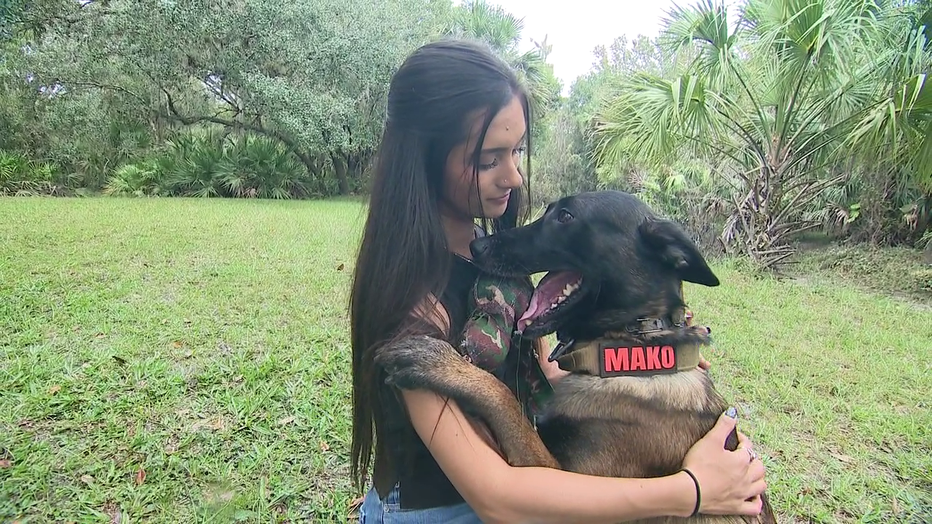 Nyiri and her boyfriend ran into the water and managed to spook the alligator enough to get it to release Mako from its jaws.
"I think the gator was uncomfortable, so it let him go. I think it was too much work than the gator wanted to do," she said. 
The attack left Mako badly injured, with multiple wounds and three broken ribs. He had to undergo several surgeries. 
The recovery took more than two months and temporarily put Mako out of work. But thanks to some talented doctors and nurses, he's almost as good as new months later.
"He breathes a little bit harder than normal, so when we're working, we really have to monitor how he's doing, but he handles it well. He compensates for it well, and he still loves to work," Nyiri said.
Since the attack, the family has thanked those responsible for saving Mako's life, including the staff at the UF Small Animal Hospital.  Meanwhile, the 12-foot alligator that nearly killed Mako was euthanized. As a permanent reminder of the day Mako beat death, they now have the alligator's skull.
"The fact that he's here is so crazy to me," Nyiri said. "He's just very loving, very in-tune, very sweet, very smart. He's just very special."