Florida couple spots endangered whale right outside their window
NEW SMYRNA BEACH, Fla. - A couple in New Smyrna Beach saw something they will never forget. 
It happened as Andrew Johnston and Megan Seamans said they were going through the process of moving into their new place in New Smyrna. 
"I was doing my morning routine out on the porch," explained Seamans, "and I saw something big move out of the water and I thought, 'What was that?'
Seamans said she woke up her boyfriend, Andrew Johnston, who joined her outside. The problem was the whale was gone. He wasn't sure if he believed she had really seen one. Thankfully, it showed up again.
"I was like, 'It's back!'" recounted Seamans.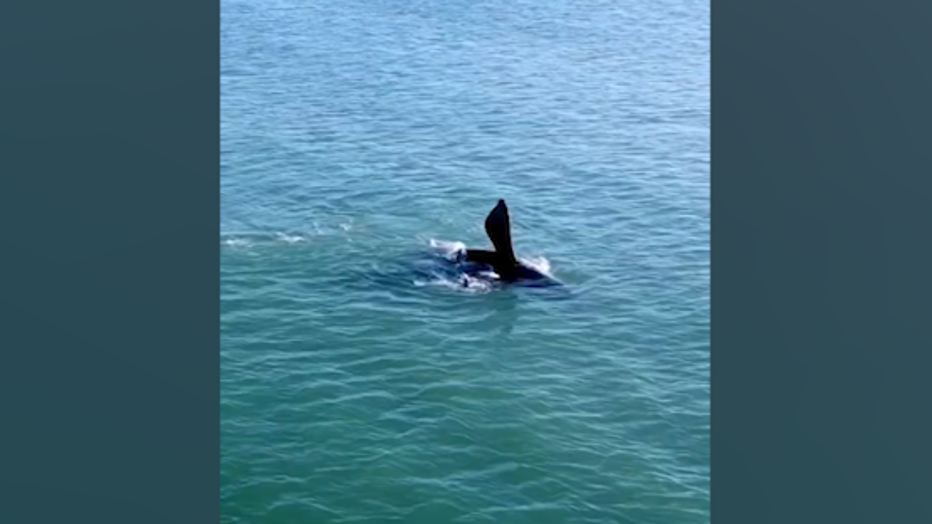 Florida couple spots endangered whale in ocean outside condo (Courtesy: Andrew Johnston and Megan Seamans - Indefinite Travel)
"I've actually gone on a lot of whale tours and never seen a whale. The idea of actually seeing one just out in its habitat is unbelievable for me, let alone right outside our condo," laughed Johnston.
The CEO of the Marine Discovery Center in New Smyrna agrees it was an extremely special thing to see. Right whales are the most endangered marine mammals in the world.
"It gets its name because it used to be the 'right' whale to hunt. It's large, it's near the surface, near shore. It was easy for whalers to harpoon these animals, and we humans almost harvested them to the point of extinction," explained Marine Discovery Center CEO Chad Truxall.
Right whales are also the fourth-largest whale in the world, reaching over forty feet long.
They migrate to Florida and Georgia's Atlantic Coast this time of year to give birth in warmer waters.
"It kind of slows things down and makes us realize and prioritize what's important. I just think it speaks to the mission of what we do, trying to educate people about the importance of our coastal systems and natural world," said Truxall.
Right whales are easy to recognize because they don't have a dorsal fin, but do have two blow holes that create a V-shaped water spout when they exhale.
Johnston and Seamans said they're extremely thankful now that they thought to whip out their cameras.
"People were walking along the beach and jogging and walking and talking, but no one was looking out to the ocean. I was like, 'Oh my gosh!' Now, looking at the video, I'm so glad we took the time and that I grabbed the drone because it's like, I want other people to see this," said Johnston.
"I'm just in awe," Seamans said about the sighting and the video. "I've watched it so many times and I'm just like, 'This is spectacular.'"
The Marine Discovery Center tracks and studies right whales.
If you see one, the center asks that you call them at 1-888-97-WHALE (1-888-979-4253).