Missing Titanic sub owner sued by Florida couple who traveled to space
ORLANDO, Fla. - An Orange County, Florida couple has sued OceanGate Expeditions CEO Richard Stockton Rush, who is onboard a submersible that went missing Sunday night in the North Atlantic Ocean. 
Marc and Sharon Hagle, of Winter Park, filed the lawsuit on February 15, 2023, after Rush reportedly refused to refund the couple the $210,258 they claimed they spent on an expedition that was supposed to take place in June 2018, court records show. FOX 35 News previously reported on the Hagles as they prepared to participate in the fourth crewed flight of Blue Origin's New Shepard rocket in 2021. 
The Hagles said they originally signed a contract in November 2016, paying a deposit of $20,000 to participate in a submersible dive expedition onboard the vessel "Cyclops 2." According to documents, the contract stated the couple would make two additional payments in October 2017 and February 2018. 
By September 2017, the couple suspected that Cyclops 2 would not be ready for its initial dive, the suit alleges. They said they requested a refund, but Rush ensured the couple that if the timing was delayed — they could request a full refund.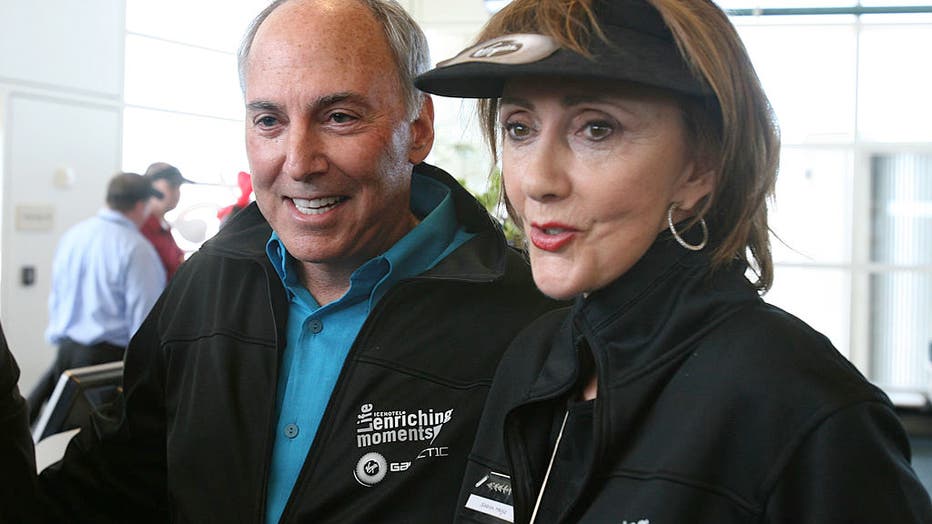 Marc, left, and Sharon Hagle, of Winter Park, Florida, came to the opening of Virgin America, October 13, 2010, celebrating its new service at Orlando International Airport to Los Angeles and San Francisco. (Photo by George Skene/Orlando Sentinel/Tri
In January 2018, the couple was served with new contracts requiring them to pay the full sum for the expedition, rather than the original payment schedule, the court filings show. A total of $190,258.00 was wired from the Hagles to OceanGate in February 2018, it states. The new contracts also showed the Expedition name changed from "Cyclops 2" to "Titan." 
RELATED: 
Two months after that, the Hagles stated the OceanGate canceled the June 2-9 2018 Expedition, pushing it to July 2019. This expedition was also canceled because according to OceanGate, its contracted support vessel refused to participate. The Hagles were notified that the Expedition date would take place at an "unidentified time in 2020," the suit alleges. 
When the Hagles requested a full refund in June 2019, OceanGate informed them the company was working on a full refund plan for them, the court documents state.
A couple of months later, the Hagles claim OceanGate demanded the couple participate in a July 2021 Expedition — if they refused, they would not receive their refund.  Rush also promised the Hagles, that their money would be held in a separate escrow account, which it wasn't, the suit shows.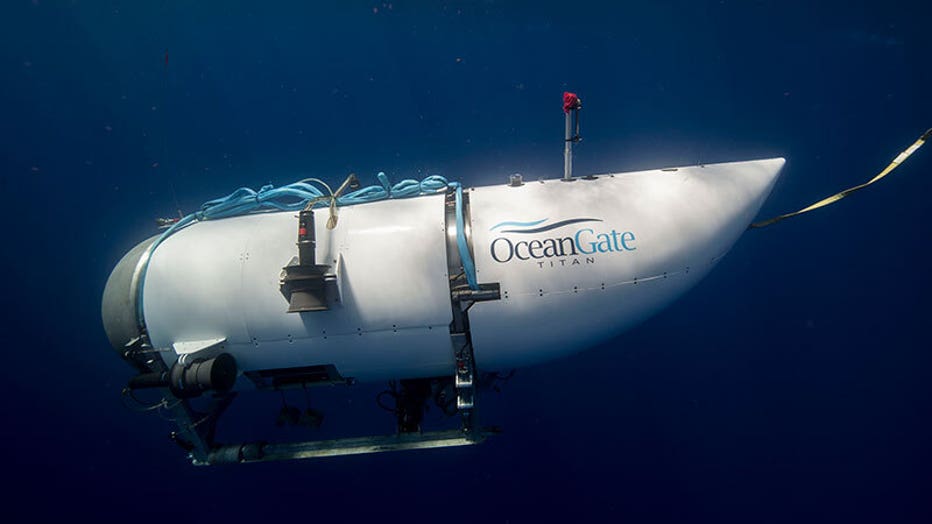 An undated photo shows a tourist submersible that belongs to OceanGate as it begins a descent at sea. (Photo by Ocean Gate / Handout/Anadolu Agency via Getty Images)
The Hagles lawsuit is not the only lawsuit filed against OceanGate. Back in 2018, a former employee claimed he was wrongfully terminated over safety concerns.  The former OceanGate employee, David Lochridge, refused to greenlight manned tests of the submersible over safety concerns. The Washington-based company later sued Lochridge for disclosing confidential information.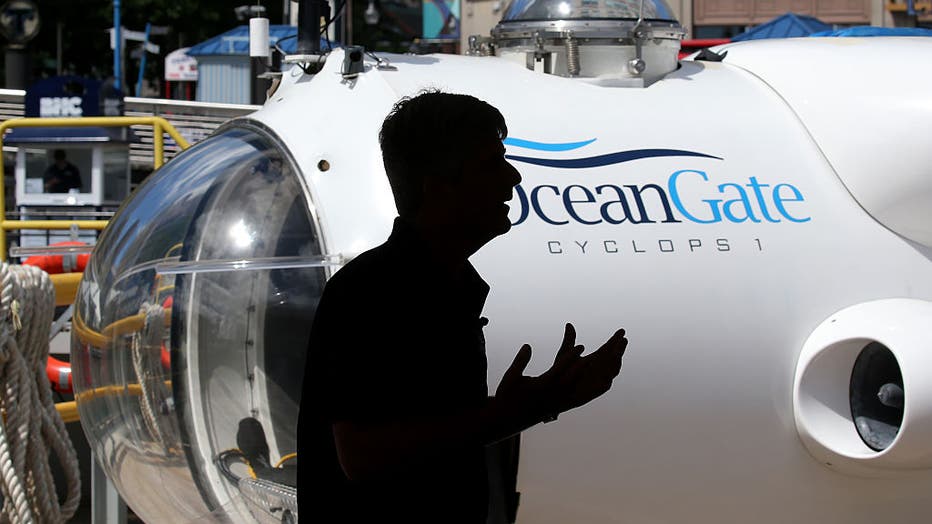 Stockton Rush, OceanGates chief executive, spoke at a press conference said during a press conference next to the Cyclops 1, a five-person sub that was used by OceanGate to capture detailed sonar images of the Andrea Doria shipwreck. (Photo by David
Rush is one of five people who are lost aboard the submersible 22-foot carbon fiber vessel that was reported overdue Sunday night, setting off the search in waters about 435 miles (700 kilometers) south of St. John's in the Canadian province of Newfoundland and Labrador.
The submersible had a four-day oxygen supply when it was put to sea around 6 a.m. Sunday, according to David Concannon, an adviser to OceanGate Expeditions, which oversaw the mission.
On Wednesday, the U.S. Coast Guard said it was bringing in more ships and underwater vessels to search for the missing submersible after detecting sounds that provided a glimmer of hope days after it disappeared. 
Trips to the bottom of the sea are inherently risky said a Florida native who was the youngest woman to ever dive at the Titanic wreckage site.
"All of the things you think about that could go wrong, it fades away when you get down there," said Michelle Turman, of Tampa.
Turman previously toured the site on a Russian research vessel and has made the trip multiple times. She described the danger.
"Once that piece of refuse taps that hull, you implode in half a second. Your brain can't even register, so that's the best-case scenario – you don't even know what happened," Turman said.
Even after seeing a potential disaster unfold underwater this week, Turman said she would go back.
"We go regardless of the risks. It's something that you reconcile within your soul," Turman said. "It's probably similar to an astronaut that goes into space."
The full scope of the search of the missing Titan crew was twice the size of Connecticut in waters 2 1/2 miles deep, said Captain Jamie Frederick of the First Coast Guard District, who noted that authorities are still holding out hope of saving the five passengers.