Florida deputy goes viral for hilarious 'cheer or go to jail' sign at high school football game
Stream FOX 35 News:
ENGLEWOOD, Fla. - One Florida deputy got "a little carried away" at a high school football game last week – and now, he's gone viral for it!
Charlotte County Sheriff's Office Deputy Farrands was at Lemon Bay High School's homecoming game in Englewood last weekend and was seen in the stands holding up a sign that said, "Cheer or go to jail!" 
"Yeah, we get a little carried away when it comes to supporting our home teams...Our deputies had a blast representing at Homecoming!" the Charlotte County Sheriff's Office wrote on Facebook.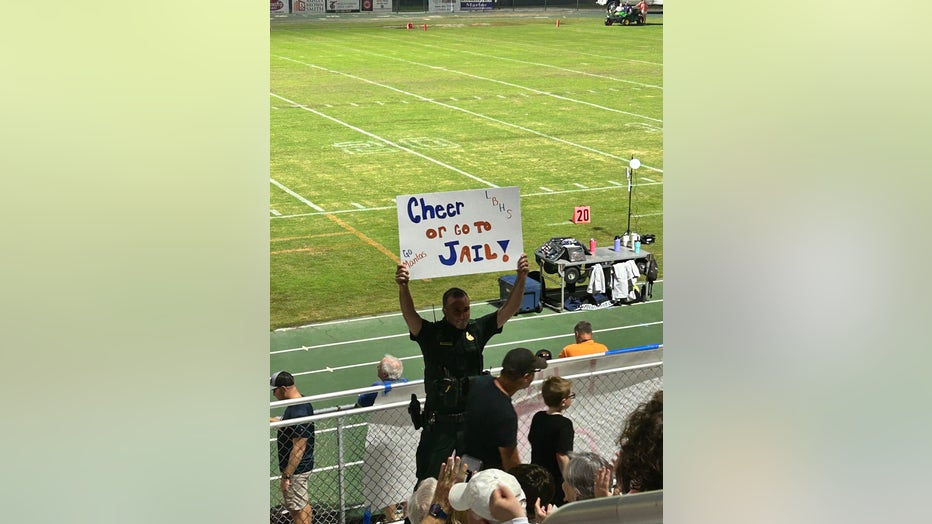 Photo: Charlotte County Sheriff's Office
Other photos from the homecoming game show Lemon Bay cheerleaders holding the same hilarious sign. 
The post received nearly 900 likes – and users in the comments were absolutely loving Farrands' school spirit. 
MORE VIRAL NEWS: Fed up with bad drivers? One driver's unconventional response goes viral
"I love how our deputies take the time to get to know the students in our community," one user wrote on Facebook. "It's kindness and moments like this that allow the children to see that our deputies are here to help and keep them safe. Thank you."
"Love the cheer or go to jail sign. LOL," said another. 
"This is great," another user wrote alongside a few laughing emojis.