Florida teen driver going 80 mph in 45 mph zone arrested after crashing into SUV, injuring 4: FHP
DAVENPORT, Fla. - Troopers have arrested a Florida teenage driver who reportedly ran off after speeding and crashing into an SUV, injuring four people in Polk County over the weekend.
Ramon Santiago-Garcia, 18, was arrested at a Haines City home Sunday afternoon on charges of reckless driving and leaving the scene of a crash, the Florida Highway Patrol said. 
Shortly after midnight Sunday, a trooper was conducting stationary radar speed enforcement on Ronald Reagan Parkway near Champions Gate Boulevard when a red 2015 Ford Mustang being driven by Santiago-Garcia passed by him going nearly 80 mph in a 45 mph zone.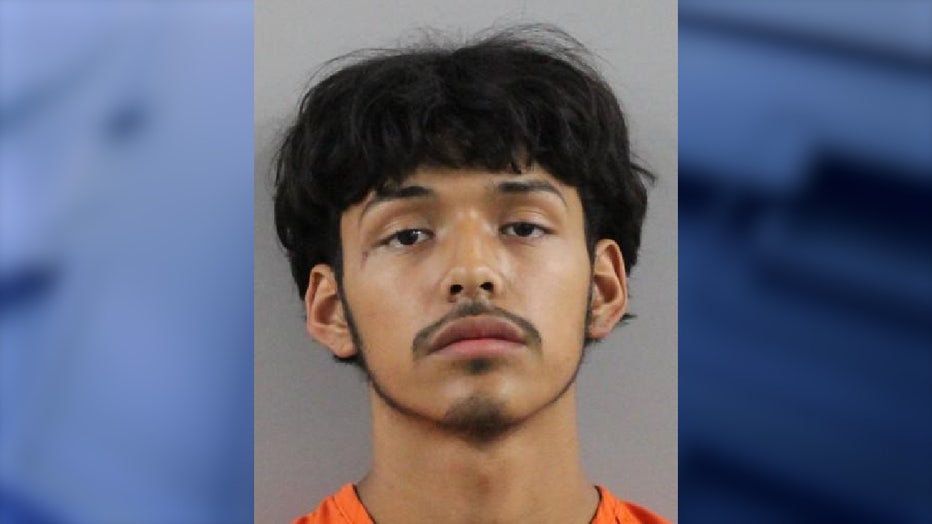 Ramon Santiago-Garcia (Photo via Polk County Sheriff's Office)
When the trooper turned on his emergency lights to enter traffic, Santiago-Garcia reportedly turned the Mustang's lights off and sped off in the dark. The trooper lost sight of the car and stopped trying to pursue it.
As the trooper approached the intersection of Ronald Reagan Parkway and Pine Tree Trail, he found the Mustang had crashed into a Nissan Pathfinder.
Photo credit: Florida Highway Patrol
Officials found a passenger in the back seat of the Mustang, but a second passenger and the driver reportedly ran off. 
Polk County deputies were able to help find the passenger that ran from the scene. Santiago-Garcia was found later that afternoon after troopers received a tip about hus whereabouts. 
The passengers were described as two males – ages 15 and 17 years old. 
The passengers of the Mustang and the occupants of the Pathfinder – two women age 21 and 22 – were taken to local hospitals. As of Monday morning, the two women remain hospitalized in serious condition, troopers said.