Florida woman arrested on fourth DUI after crashing into motorcyclist: Police
EDGEWATER, Fla. - A Florida woman has been arrested for her fourth DUI, according to police. 
Lisa Rose Lange, 62, of Edgewater, was arrested on multiple charges after she reportedly crashed into a motorcyclist who had to be airlifted to a hospital. Police said they arrived on the scene around 5:07 p.m. on Tuesday and found a motorcycle and a white car with extensive damage. 
Jason Welliver, who's visiting from South Carolina for Bike Week, witnessed the crash.  "It was one of the scariest things I've ever seen in my life. It really, really freaked us out," he told FOX 35 News. "I cried three times at the scene. I'm a pretty tough guy, but it killed me and hurt me so bad."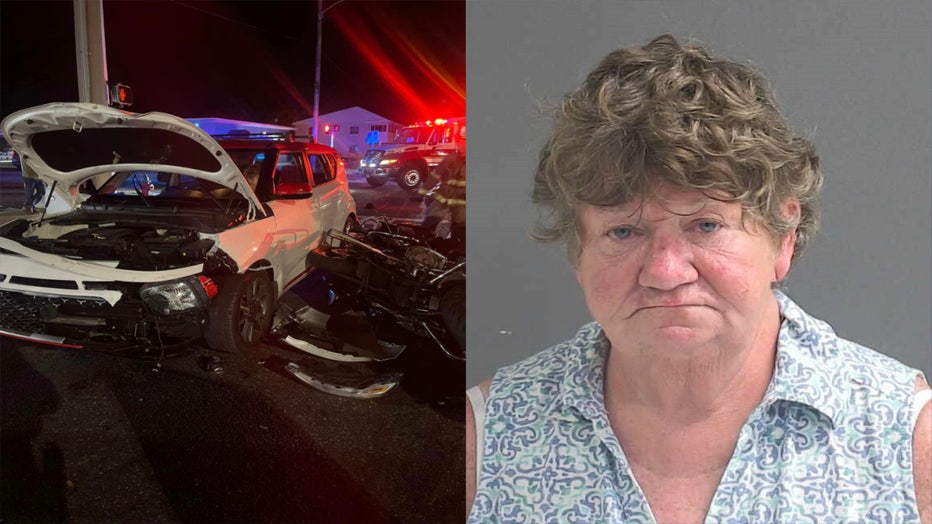 Credit: Edgewater Police Department
Video surveillance showed Lange hitting the back of the victim's motorcycle that was stopped at a red light. Lange didn't hit her brakes until after hitting the motorcyclist, an arrest affidavit shows. 
When speaking with Lange, police said they observed she had slurred speech, glossy eyes, and a smell of odor that resembled an alcoholic beverage. She was also unable to take part in field sobriety testing due to her "heavily intoxicated state."
Lange's first DUI conviction happened in 1994, according to Edgewater Police, and the following two convictions happened nearly a decade later. 
"It's not surprising at all that after three convictions somebody would still be driving. That's, in fact, quite normal," Daniel Liesing, a defense attorney, said.
But the penalties are much more serious for a fourth DUI conviction. It can come with a $2,000-$5,000 fine and up to five years in prison. In this case, it's likely Lange would have to give up her license as is standard. 
"Unless the state was willing to amend this to an entirely different charge if it remains a DUI, the permanent revocation is going to take place," Liesing said.
A judge set Lange's bond at $11,000 for the felony DUI charge and two others. She remained in the Volusia County jail Wednesday night.
At last check, the 75-year-old motorcyclist, from Cincinnati, Ohio, was in serious condition.