Florida girl, 12, took dad's car and drove 400 miles with friend to possibly meet boy in Alabama: official
Authorities in Florida said a 12-year-old girl took her dad's vehicle and drove with a friend more than 400 miles – and close to seven hours -- into neighboring Alabama to potentially meet someone they had met online. However, once the girls made it to Alabama, they saw their photos on TV and contacted law enforcement.
A Florida Missing Child Alert was issued on Thursday, April 6, for a 12-year-old girl and a 14-year-old girl, who were both missing from Lake Butler, Florida in Union County – about an hour west of Jacksonville, Florida – and possibly traveling westbound in Interstate 10 toward Baton Rouge, Louisiana.
Hours later, the Union County Sheriff's Office said both girls were found safe in Bayou La Batre, Alabama, roughly 442 miles away from Lake Butler, Florida.
Union County Sheriff's Office Captain D.C. "Lyn" Williams told FOX 35 in an email that it appears the girls had met a teenage boy online and were possibly traveling to meet him in person. However, that is still being investigated and confirmed, he said.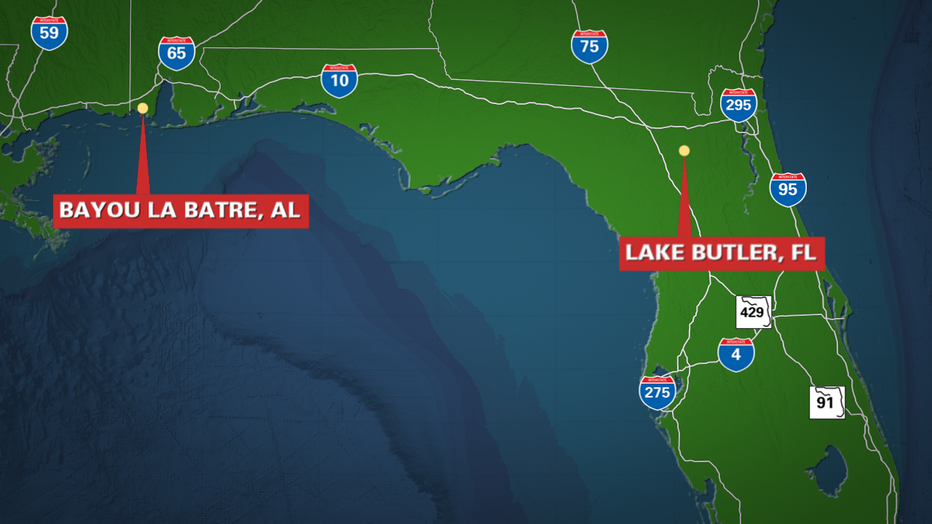 Once in Alabama, he said the girls were found quickly. Both are now back home with their families in Florida and "doing great," he said. FOX 35 is not naming the girls.
Williams said deputies were still working to determine who the girls were possibly talking to online. There are no suspects or foul play at this time, he said, though all of it remains under investigation.
This story was reported from Orlando, Florida.