Florida lawmakers win round in congressional redistricting fight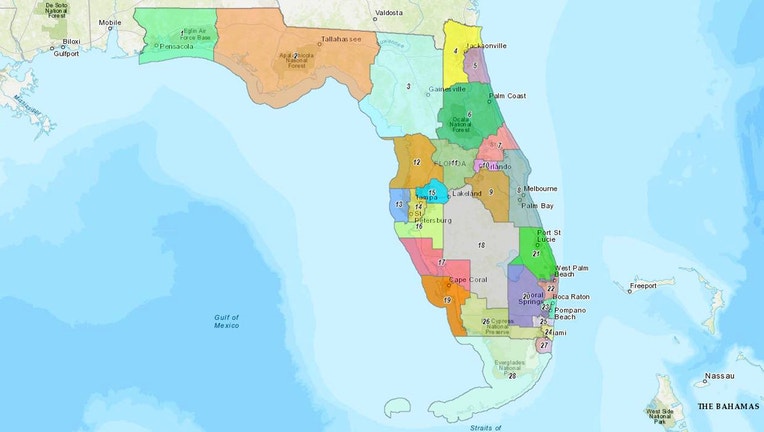 article
TALLAHASSEE, Fla. - As they try to defend a congressional redistricting plan, the Florida House and Senate will be able to challenge part of a 2010 constitutional amendment that set rules for drawing maps, a Leon County circuit judge said Monday.
The ruling by Judge J. Lee Marsh came in a lawsuit filed by a coalition of voting-rights groups and individual plaintiffs that contends, in part, the redistricting plan violates the 2010 "Fair Districts" constitutional amendment because it diminishes the voting power of Black residents in North Florida.
Gov. Ron DeSantis last year pushed through the Republican-controlled Legislature a plan that dramatically changed Congressional District 5, which in the past sprawled across North Florida and elected Black Democrat Al Lawson. The new map ultimately led to white Republicans winning all North Florida congressional seats in November.
In trying to fend off the lawsuit, the state has contended that applying the Fair Districts amendment's so-called "non-diminishment" standard to Congressional District 5 would violate the Equal Protection Clause of the U.S. Constitution. That mirrors a DeSantis administration position last year that the Equal Protection Clause prevented the Legislature from using race as a "predominant factor" in drawing the district.
The plaintiffs' attorneys asked Marsh to bar the state from using the argument as a defense. They contended that a legal concept known as the "public official standing doctrine" prevented the Legislature and Secretary of State Cord Byrd — the defendants in the case — from challenging the constitutionality of a legal "duty."
The "duty," according to the plaintiffs, would involve complying with the 2010 Fair Districts amendment.
"The duty to draw the districts in compliance with the (state) Constitution is not discretionary, even though there is some discretion within that task," plaintiffs' attorney Jyoti Jasrasaria argued Monday.
But attorneys for the House, Senate and Byrd disputed the plaintiffs' arguments. House attorney Andy Bardos said lawmakers faced a "clash of constitutional principles" in drawing the map because of potential conflict between the Fair Districts amendment and the U.S. Constitution.
"Why should we not presume that what the Florida Constitution says is valid?" Marsh asked at one point.
"The question is whether the state Constitution is presumed to be consistent with the federal Constitution," Bardos said.
In a verbal ruling, Marsh agreed to allow the House and Senate to use the U.S. Constitution argument to defend the redistricting plan but said Byrd could not use it because of the public official standing doctrine.
Marsh's ruling didn't determine the constitutional issues — only whether the state could make the argument as the case moves forward. A trial is scheduled to begin in August.