Florida looks 'redder than blue' after midterms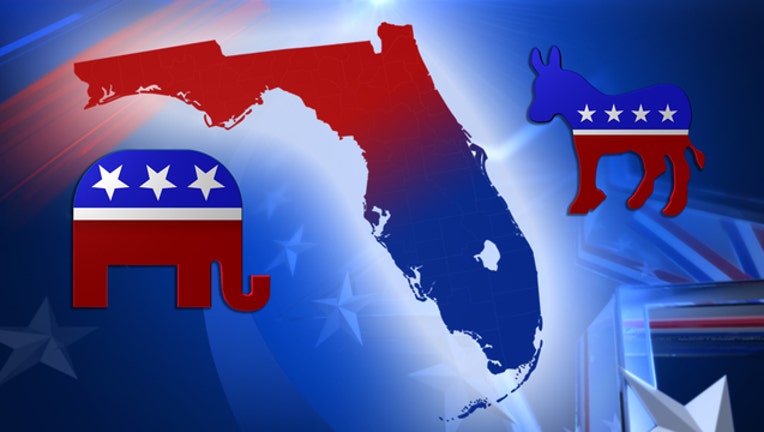 article
TALLAHASSEE, Fla. (NSF) - After Tuesday's elections, Florida Republicans maintained a stronghold on the governor's mansion, are poised to sweep the state Cabinet races and are a recount away from ousting a U.S. senator who's the only statewide Democratic office-holder.
The GOP's continued dominance in the midterm elections poses a question for Democrats: Is Florida a blue state, a red state or a purple state?
"I don't think it's a red state. I think it's redder than blue," Orlando trial lawyer John Morgan, a political rainmaker who frequently backs Democratic candidates and who toyed with the notion of running for governor this year, told The News Service of Florida on Wednesday.
Former Democratic President Barack Obama twice captured the Sunshine State's electoral votes before Republican President Donald Trump secured a victory over Hillary Clinton in 2016.
Trump's support helped Republican Ron DeSantis defeat Tallahassee Mayor Andrew Gillum, a progressive Democrat, in Tuesday's race to succeed Gov. Rick Scott. And in a contest headed toward a recount, the president's backing helped Scott build a lead in his bid to unseat U.S. Sen. Bill Nelson.
The race between DeSantis and Gillum, who was trying to make history as the state's first black governor and become the first Democratic chief-of-state in two decades, was one of the nation's most closely watched gubernatorial contests and was widely considered a referendum on Trump.
While voters showed up at the polls or returned ballots in near-record numbers for a midterm election, turnout in Democrat-rich South Florida  --- roughly 57 percent in Broward and Miami-Dade counties --- lagged behind the statewide turnout rate of 62 percent. By comparison, turnout in the Republican stronghold of Collier County was more than 73 percent.
"Florida is always going to be competitive because you've got the organic growth of a younger population that's more diverse and more liberal but is also more apathetic politically, and you have older, more conservative, white people coming in who are politically mobilized from their past life and have moved to Florida because they want lower taxes. They want affordable housing. They want limited government intervention in their lives. They don't want to pay for schools. They've done that," University of Florida political science professor Daniel Smith said in an interview Wednesday.
Overall, more than 8 million Floridians voted during the election. That's on par with the number of voters in the 2008 presidential election. At the same time, more than 5 million registered voters didn't cast ballots this fall.
"So is it a red state? Well yeah, in terms of those people who are turning out in midterm elections, it's almost always a red state. It was a little less red this election, but that's small solace to Democrats," Smith said.
Democratic strategist Steve Vancore also said Florida tilts toward Republicans in statewide races.
"I think there's very little doubt that, when it comes to statewide elections, Florida is absolutely a red state. Show me a single data point that says we're not," Vancore told the News Service.
Morgan, who said he and his law firm contributed $2 million to Gillum's campaign, credited Trump with showing up in parts of the state where Republicans needed to boost turnout. Trump came to Florida twice in the week leading up to Tuesday's election to stump for DeSantis and Scott, holding rallies in the Republican-dominated Panhandle and Southwest Florida,
But Morgan blamed Gillum's proposed tax hike --- Gillum wanted to raise corporate-income taxes by about $1 billion to cover a pay hike for teachers --- for the Democrat's election-night defeat.
"I don't think you can ever win the election with these words: 'I'm going to raise taxes.' I didn't advise him. He did that when he was running as a fourth-place progressive in the primary, and you can't take those words back," Morgan said. "All I can say is, read my lips. Never mention new taxes. Because the public doesn't understand corporate taxes, income taxes, sales taxes. It's like sex. It's just, sex is sex, and tax is tax."
Morgan also pointed to another factor --- race --- as the reason for Gillum's downfall.
"I think Andrew was excellent. He was charismatic. Charming. Quick. But there are certain people in certain states that will never vote for a brown person. Ever. Period. End of story. A brown person will vote for a white person, but there are certain white people who will never in a million years vote for a brown person," he said.
Florida Democrats picked up two congressional seats in South Florida and could flip a key Tampa state Senate seat, though that race is headed for a recount. Nikki Fried, the Democratic candidate for agriculture commissioner, also trailed by less than 13,000 votes Wednesday and was headed toward a recount in her battle against Republican Matt Caldwell.
But Florida Democrats' "itsy bitsy gains" --- offset in Florida by Gillum's loss and the possibility of Scott's defeat of Nelson --- came in a year in which Democrats regained control of the U.S. House and made inroads in state legislatures throughout the country, Vancore noted. He said Democrats must embrace candidates all along the spectrum of progressivism if they want to chip away at the GOP's dominance.
 "The Democratic Party is in a quandary that the Republican Party is not. At least the Republican Party knows who it is. And the Democratic Party in Florida is going through a real identity crisis. Who are we, and are we willing to accept people who are not like ourselves? We seem to be the party who says, I'm not going to accept somebody who works across the aisle to get something done," Vancore said. "If we're going to be the party of ultra-leftism only, then I think we're going to have a hard time succeeding."
Information provided by The News Service of Florida.