Florida undercover operation leads to arrest of 12 men in connection with alleged sexual activity with minors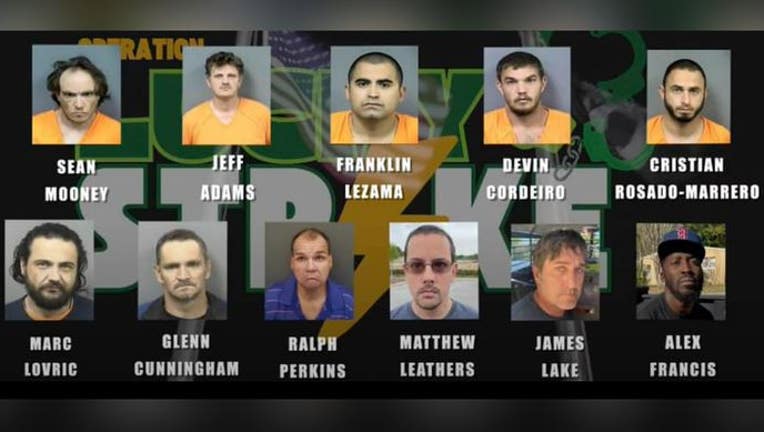 article
CITRUS COUNTY, Fla. - Authorities in Florida have arrested 12 suspects who attempted to engage in sexual activity with minors as part of an undercover operation targeting predators.
The Citrus County Sheriff's Office said "Operation Lucky Strike," a tactical undercover Internet Crimes Against Children, was launched to arrest dangerous cyber predators who attempt to have sex with children. 
While conducting the operation, law enforcement officials posed as minors on different websites waiting to be solicited through online messages. The suspects, while aware of the child's age, still elected to send sexually explicit pictures, messages and detailed requests of various sexual activities they wanted to perform with the child. 
Some of the suspects had driven more than an hour believing they were meeting a minor to engage in sexual activity. But upon their arrival, they were apprehended by law enforcement officials.
The Citrus County Sheriff's Office worked with the U.S. Secret Service, the Florida Department of Law Enforcement, the Marion County Sheriff's Office, the Hernando County Sheriff's Office, the Sumter County Sheriff's Office and the Tavares Police Department to arrest the suspects.
"These abhorrent and sick individuals prey upon children for their own perverted benefit," Citrus County Sheriff Mike Prendergast said in a statement. "These individuals knowingly send vile and sexually explicit messages to minors online, and even travel hours to meet up with a child with the intention to carry out these repulsive acts if not something worse."
MORE NEWS: Prank phone calls sends SWAT team to Sanford family home multiple times
"Preying on children is absolutely despicable," he continued. "I am incredibly proud of the extraordinary partnership our agency and the law enforcement agencies who assisted us in bringing these monsters to justice and off our streets. If operations like 'Lucky Strike' takes only one predator off the streets, it is a success. We've stopped 12 immoral criminals this time, so we deem 'Lucky Strike' a huge success."
Cristian Gabriel Rosado-Marrero, Devin Michael Cordeiro, Franklin Lezama, Jeff D. Adams, Sean Robert Mooney, Robert Allan Rankin, Mathew Leathers, Glenn Cunningham, James Patrick Lake, Mark Philip Werner Lovric, Alex Anthony Francis and Ralph Joseph Perkins were taken into custody in connection with the operation.
Officials said 11 suspects were arrested for attempting to have sex with minors and Rankin was arrested for possession of a controlled substance and paraphernalia as an accomplice to Mooney for driving him to the meeting location.
Get updates at FOXNews.com