Florida voter registration deadline extended after website crashes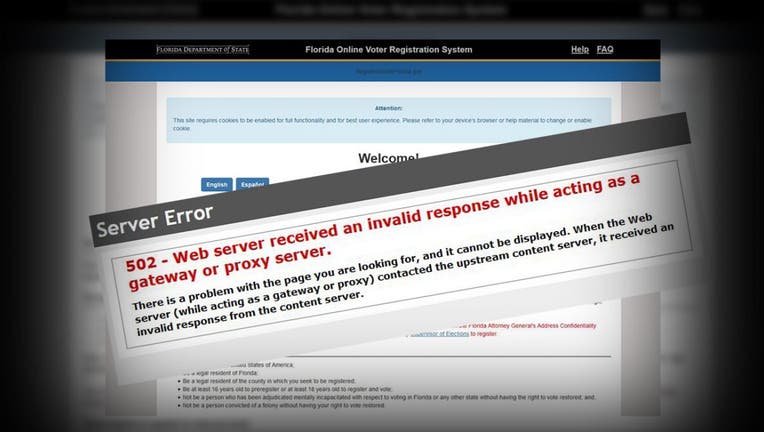 article
ORANGE COUNTY, Fla. - Florida is extending its voter registration deadline after the state's website prevented some people from registering on Monday, which was the original deadline.
Governor Ron DeSantis and Secretary of State Laurel M. Lee issued to the directive. They extended the deadline to Tuesday, October 6th. Those who register by 7 p.m. will be able to participate in the November 3rd General Election.
"This morning I met with Governor DeSantis to brief him on the status of the online voter registration system and the difficulties we encountered last night due to unprecedented volume and traffic to our website. We are working with local Supervisors of Elections and the Florida Department of Highway Safety and Motor Vehicles to ensure that all eligible registrants have the ability submit a voter registration application by 7:00 p.m. this evening," said Secretary Laurel M. Lee.
She also said that "during the last few hours, the RegisterToVoteFlorida.gov website was accessed by an unprecedented 1.1 million requests per hour. We will work with our state and federal law-enforcement partners to ensure this was not a deliberate act against the voting process."
RELATED: How vote-by-mail works in Florida
"You can have the best site in the world, but sometimes there are hiccups," Governor DeSantis said during a press conference at The Villages. "If 500,000 people descend at the same time, it creates a bottleneck."
To register, visit the Florida Department of State website.
To be eligible to register to vote, you must:
Be a citizen of the United States of America;
Be a legal resident of Florida;
Be a legal resident of the county in which you seek to be registered;
Be at least 16 years old to preregister or at least 18 years old to register and vote;
Not be a person who has been adjudicated mentally incapacitated with respect to voting in Florida or any other state without having the right to vote restored; and,
Not be a person convicted of a felony without having your right to vote restored.
To submit an application, you will need:
A Florida driver license or a Florida identification card issued by the Florida Department of Highway Safety & Motor Vehicles.
The issued date of your choice of identification.
The last four digits of your social security number. 
Applications can also be accepted through:
County Supervisors of Elections Offices
Local Tax Collector's Offices
Department of Highway Safety and Motor Vehicles' Driver's License Offices
Paper applications postmarked by today, October 6, 2020
Governor DeSantis has ordered elections, motor vehicle, and tax collectors offices to stay open until that hour for anyone who wants to register in person. He also said any forms postmarked by Tuesday will be accepted.
Those with further questions should contact the Division of Elections' Voter Assistance Hotline at 1-866-308-6739.
FOX 35 VOTER'S GUIDE: Everything you need to know about the 2020 election, including polling locations, early voting dates, and what is on the ballot
On Monday, the day of the original voter registration deadline in Florida, the state said that the website experience problems, despite having its capacity on Monday. Users said that the website was slow or unreachable for large stretches of time. 
With just six hours before Florida's registration deadline, registertovoteflorida.gov was reportedly down because of high volume for about fifteen minutes.  
The outage impacted many Florida felons, who just received the right to vote in a 2018 state referendum that passed overwhelmingly — if they have completed probation and don't have any outstanding fines or fees. Murderers and sex offenders are still banned.
Desmond Meade, executive director of The Florida Rights Restoration Coalition, said the group heard from dozens of felons who couldn't register.
MORE NEWS: State Attorney tells attorneys not to prosecute cases for resisting an officer's commands
State officials said that they have a web team checking into exactly why the issues occurred. They said that early indications point towards an overloaded web server. 
The volume of requests that overwhelmed the Florida registration site Monday was not consistent with denial-of-service attacks, which typically render websites unavailable with barrages of several hundred million requests per second.
The potential for outside meddling is an especially sensitive issue in Florida, a key battleground state in November's election between President Donald Trump and his Democratic challenger, former Vice President Joe Biden. The state has lingering questions about Russian hacking during the election four years ago.
Biden tweeted Tuesday that the Republican governor's decision to extend the deadline "is a win for our democracy."
MORE NEWS: Trump to debate Biden next week as doctor says president 'reports no symptoms' of COVID-19
Voter right groups said the extension was not enough. Dream Defenders, New Florida Majority, Organize Florida, LatinoJustice PRLDEF and others filed a lawsuit, stating that at least two additional days are needed to give those denied access enough time to learn of the extension and respond. They said that anything less is voter suppression.
"Florida has had multiple years and multiple elections to address the site's digital security and update its faulty online voter registration system. No voter should be denied their right to vote during a global health pandemic because Florida did not have a functioning online voter registration system," said Jorge Vasquez, power and democracy director at Advancement Project National Office, one of the suing groups. No hearing has been set.
"We don't know that the system that has been corrected so we need to have some additional time certainly more than an additional seven hours," said Gilda Daniels with the Advancement Project. She is seeking more time to reach out to people and let them know about the extension. "Not enough time for even the Secretary of State to get the news out that there has been an extension."
This is not the first major computer shutdown to affect the state government this year. For weeks in the spring, tens of thousands of Floridians who lost their jobs because of the coronavirus pandemic couldn't file for unemployment benefits because of repeated crashes by that overwhelmed computer system, delaying their payments. DeSantis replaced the director overseeing that system but blamed the problems on his predecessor, fellow Republican Rick Scott, who is now a U.S. senator.
Tune in to FOX 35 Orlando for the latest updates on the 2020 election.
The Associated Press contributed to this report.