Florida woman strikes intruder with hammer while husband holds him at gunpoint: affidavit
DUNNELLON, Fla. - UPDATE: The woman spoke exclusively with the FOX 35 News Team about the incident. 
A Florida woman repeatedly struck an alleged intruder with a hammer while her husband held him at gunpoint, according to an affidavit from the Marion County Sheriff's Office.
Robin Rivera, who was "highly intoxicated" at the time, was reportedly trying to get into his mother-in-law's house, who didn't live there, officials said. The 41-year-old Ocala man was arrested and booked on charges including burglary with assault or battery.
The alleged incident happened shortly after 11:30 p.m. on Sunday at a residence in Dunnellon. A couple inside the home was asleep when the wife said she heard a "banging" noise that kept getting louder and louder.  That loud noise was reportedly coming from Rivera, who was knocking so hard on the door, he knocked it off its hinges, the affidavit states. That's when Rivera allegedly made his way inside the home.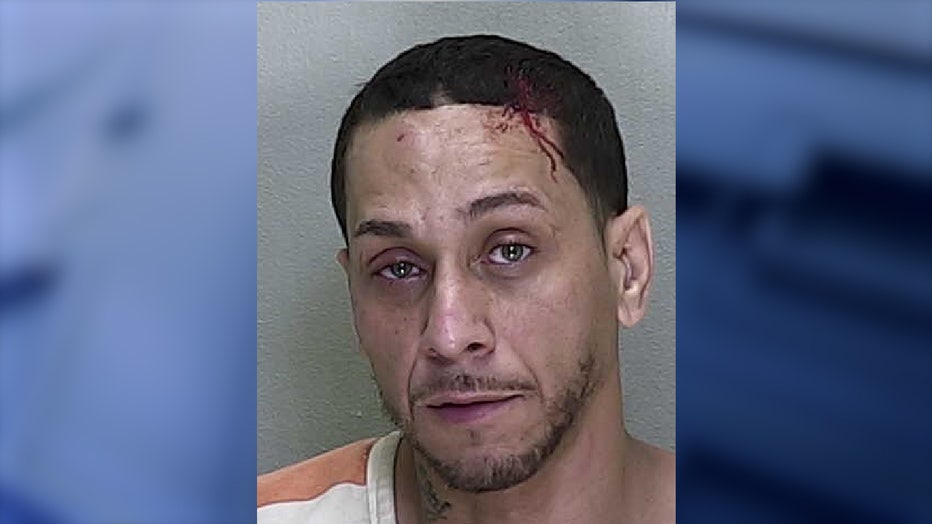 Photo: Marion County Sheriffs Office
According to the affidavit, the husband grabbed his shotgun, loaded it, and told Rivera to get out, or he would shoot him. "Go ahead and shoot me," Rivera reportedly told the husband. The two then got into a "tussle" over the gun, which caused the alleged intruder to fall down after unsuccessfully trying to grab it.
The wife then reportedly grabbed a hammer and struck Rivera in the head, deputies said. Rivera went down, but then got up and allegedly charged the couple again. The affidavit states that the wife hit him a few more times with the hammer just as deputies arrived at the scene.
Upon arrival, deputies noticed the couple's front door was "completely removed from the wall" and there were multiple small puddles of blood, which officials believe came from Rivera.
RELATED STORIES: 
After Rivera was taken into custody and read his Miranda Rights, he agreed to speak to deputies. He said he was trying to get back into his mother-in-law's house but the responding deputy explained that he wasn't at his mother-in-law's house.
"I'm not?" a seemingly confused Rivera replied, according to the arrest report. The deputy stated that at that point, Rivera appeared to realize he had done something wrong and started crying. Rivera also denied knocking the front door down and entering the couple's home.
Rivera is being held at the Marion County Jail on a $25,000 bond.