Here are the top 20 'allergy capitals' of America in 2023
The Asthma and Allergy Foundation released its annual Allergy Capitals report for 2023 on Wednesday and identifies the most challenging places for pollen allergies in the 100 most populated cities in the continental U.S.
The top 20 cities were ranked based on tree, grass and weed pollen scores, over-the-counter allergy medication use and the availability of board-certified allergists and immunologists.
"We are experiencing longer and more intense allergy seasons because of climate change," Kenneth Mendez, the CEO and president of the AAFA, said in a news release. "About 81 million people in the U.S. have seasonal allergic rhinitis, which is most often caused by pollen allergies."
Mendez added that if immediate action isn't taken on climate change, pollen production will only increase.
"This means more allergy and asthma attacks and additional strain on our health care system," Mendez continued.
WHY SEASONAL ALLERGIES ARE BECOMING WORSE
The top 20 allergy capitals for 2023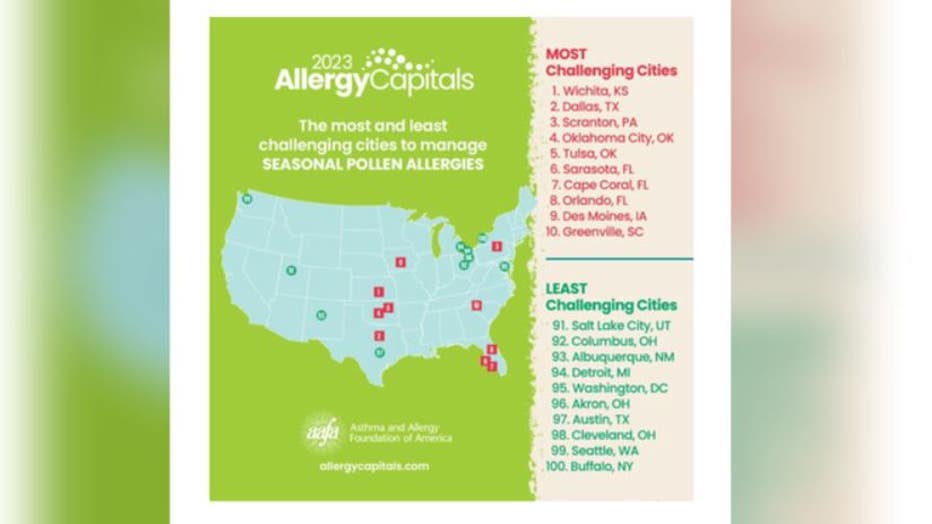 Here are the top 20 allergy capitals for 2023. This year, the Asthma and Allergy Foundation placed Wichita, Kansas, in the top spot. Graphic via AAFA
The AAFA placed Wichita, Kansas, in the top spot this year based on its high tree and grass pollen score, a higher-than-average allergy medication use and the limited number of allergy or immunology specialists per patient.
Here are the top 20 allergy capitals for 2023:
Wichita, Kansas
Dallas
Scranton, Pennsylvania
Oklahoma City
Tulsa, Oklahoma
Sarasota, Florida
Cape Coral, Florida
Orlando, Florida
Des Moines, Iowa
Greenville, South Carolina
Virginia Beach, Virginia
Houston
Little Rock, Arkansas
Miami
Lakeland, Florida
Raleigh, North Carolina
Palm Bay, Florida
Tampa, Florida
Greensboro, North Carolina
Rochester, New York
The least challenging cities for allergies include Salt Lake City, Washington and Seattle.
You can check out the full 100-city ranking on the AAFA's website.
EVEN MORE SNIFFLING AND SNEEZING: LONGER ALLERGY SEASON POSSIBLE DUE TO CLIMATE CHANGE, STUDY SUGGESTS
Start treating allergies before symptoms begin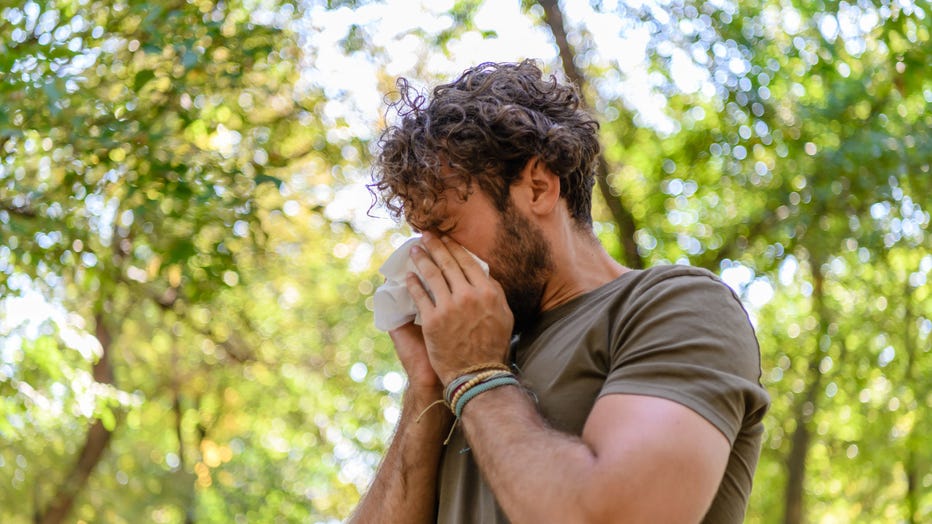 Photo of a man with allergies who is blowing his nose. via Getty Images
According to the AAFA, from 1990-2018, the plant growing season extended an average of 20 days and produced about 21% more pollen, putting people who suffer from allergies at risk for more symptoms for longer.
Allergies can also trigger asthma attacks. The AAFA says 60% to 80% of the nearly 26 million Americans with asthma have allergic asthma.
"As pollen counts spike, we often see spikes in emergency room visits for asthma," Mendez said. "Around 3,600 people per year die from asthma, so it's important to address and manage asthma and allergy triggers where you live."
The AAFA has several recommendations to manage seasonal allergies, such as keeping windows closed during pollen seasons, using HEPA filters on A/C systems, taking showers before bed and wearing a mask and hair covering when outside. Get even more tips here.
Several over-the-counter medications can help manage seasonal allergies. Talk to your doctor to determine which one is right for you.