How new FDA-approved Alzheimer's drug Leqembi could help families
ORLANDO, Fla. - Alzheimer's Disease affects nearly one in nine people over the age of 65. Right now, there's no cure, but there is a new drug that gives families hope. 
Michele Hall is 56 years old. She was about 51 when she started noticing something was wrong.
"I kept saying, 'What's wrong with me? Why can't I do the things I've always been able to do?'" she told FOX 35. "I would be slow to answer questions, I wouldn't put things together that I usually would put things together."
At first, her doctors thought her symptoms might just be stress or menopause. 
About two years later, she finally got the diagnosis: Alzheimer's; a degenerative disease that kills brain cells, wiping out memory, and eventually leading to death.
"We get diagnosed and sort of both go into shock and the doctor's like, 'We'll see you again in a year.' We're like, 'A year? That's like forever, we want to come back tomorrow!'" recounted Michele's husband, Doug Hall.
A drug just approved by the FDA, Leqembi, claims to delay the advancement of that disease for people in its early stages.
Lindsey Taylor, the Program Manager with the Alzheimer's Association of Central Florida, said it's the first of its kind.
"It could mean more time recognizing a spouse, a child, a grandchild; more time to plan for the future; more time to participate in hobbies and interests they have," said Taylor. "It's a very meaningful step in the right direction."
There is a catch: Leqembi is very expensive. Medicare will cover it, but only if the patient goes on a federal registry.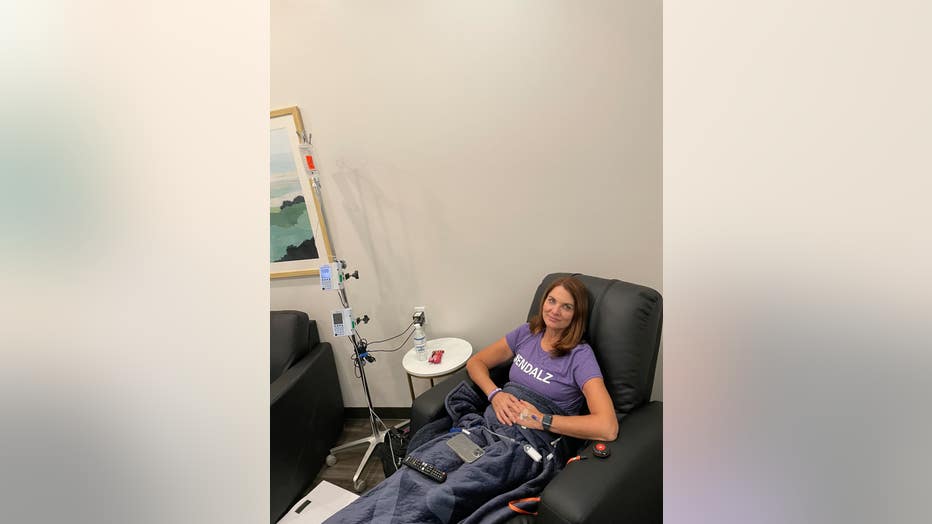 Michele Hall was diagnosed with Alzheimer's Disease at age 53. (Source: Doug Hall)
"Registries, of course, are important for learning about the long-term implications and effects for drugs when used in the real world," said Taylor. "We're hopeful that registry requirement won't be a roadblock for people trying to access the drug." 
Hall is actually on a different drug called Aduhelm. She happened to get coverage before Medicare limited coverage on it. To switch to Leqembi, she'd have to stop taking Aduhelm for as long as a year. That's a big risk, and she isn't sure she wants to take it – for her, time is a precious thing to gamble. But she thinks Leqembi will be amazing for other families.
"This isn't a death sentence in any way," said Hall, addressing others who may be suffering from dementia. "I do everything the way I usually do it. If I go for a run, that's what I always do. I tell people the same thing, which is, just do your life, whatever your life is, and go forward, and be happy."
For anyone who thinks they may have dementia, or thinks anything at all is wrong, Michele's advice is to not be afraid and go get checked out.
This Sunday kicks off the Alzheimer's Association International Conference in Amsterdam. There, they'll talk about other advancements in research and medicine.