Hurricane Ian briefly attained Category 5 intensity off Florida's Gulf Coast, NHC says
ORLANDO, Fla. - Hurricane Ian was upgraded to a Category 5 hurricane, six months after it struck Southwest Florida with a high storm surge and up to 20 feet of rain for our region. This was announced on Monday by the National Oceanic and Atmospheric Administration's final report on Ian. 
In their reanalysis and conclusions, officials determined the damage was consistent with a system producing winds of at least 157 mph, instead of its previously-classified Category 4 status, where winds could go no higher than 156 mph. In fact, at the storm's peak, hurricane hunters had originally clocked winds to 155 mph, which is two miles per hour shy of Cat 5 strength.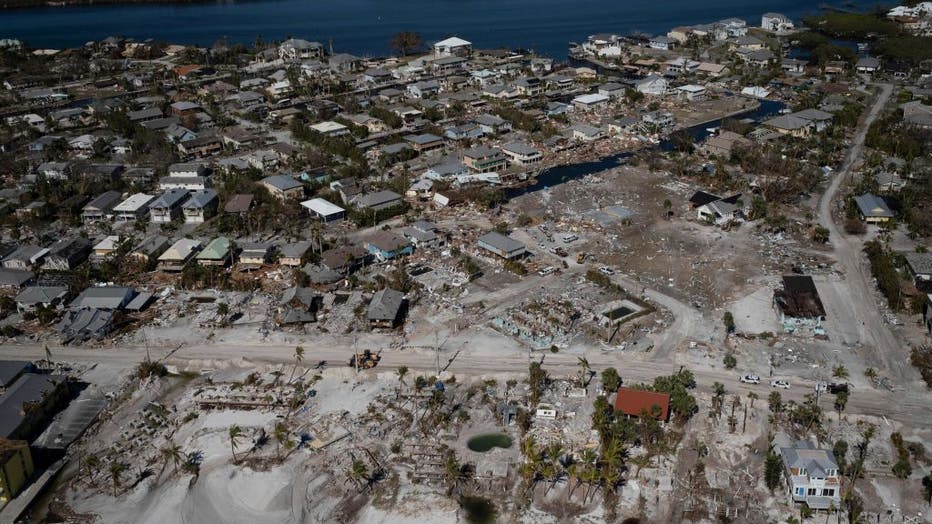 An aerial picture taken on September 30, 2022 shows destroyed houses and businesses in the aftermath of Hurricane Ian in Fort Myers Beach, Florida. - Forecasters expect Hurricane Ian to cause life-threatening storm surges in the Carolinas on Friday a
It was ultimately determined the system did in fact reach Cat 5 strength while churning over the Dry Tortugas on the extreme west end of our Florida Keys on the morning of Sept 28, with winds of 161 mph.
A hurricane can be miscategorized if there are insufficient data from either satellite, hurricane hunter aircraft observations, or ground reports, as was evidenced here and in four other major hurricanes over the last decade, which also were upgraded many months later. 
Most recent Cat 4s at landfall that were later upgraded to Cat 5s upon further analysis include:
Hurricane Michael (2018) - After making landfall in the Florida Panhandle as a Category 4 storm on October 10, 2018, Hurricane Michael was later upgraded to a Category 5 hurricane in April 2019. (This made it the first Category 5 hurricane to strike the contiguous United States since Hurricane Andrew in 1992.)
Hurricane Maria (2017) - After making landfall in Puerto Rico as a Category 4 storm on September 20, 2017, it was later upgraded to a Category 5 hurricane in September 2018.
Hurricane Irma (2017) - After making landfall in the FL Keys as a Category 4 on September 10, 2017, Irma was later upgraded to a Category 5 in March 2018 by the NHC.
Hurricane Matthew (2016) - After hugging the coast of Florida and causing widespread damage as a Category 3 storm in October 2016, it was later upgraded to a Cat 5 in April 2017.
The Saffir-Simpson scale determines the category of a hurricane based only on wind speed. It has significant shortfalls as it does take into account storm surge intensity or flooding from heavy rain. This report also classified Ian as the costliest hurricane to strike Florida and the third costliest to ever make landfall in the United States. 
While the extent of Ian's impacts can not be changed, the category of the hurricane which left a deep scar across Florida, resulting in the loss of 150 lives, did max out at the top of the scale representing the worst nature can muster.