Florida man says he left child in hot car because it was raining, she was sleeping: 'Such a stupid move'
TAVARES, Fla. - An Instacart worker accused of leaving his daughter for nearly an hour inside a hot car parked at a Publix in Tavares tells FOX 35 News that he is remorseful about what happened and is making no excuses for the potential danger that decision put the child in.
"Every night since, it [has] just [been] eating me inside. It's so hard to even forgive myself, to even try to come to forgive myself, for such a move," Keita Jones said via phone Wednesday.
It was raining, he said, and he didn't want to get his one-year-old wet. So, he left the car window partially down while he went inside the grocery store to complete an Instacart order.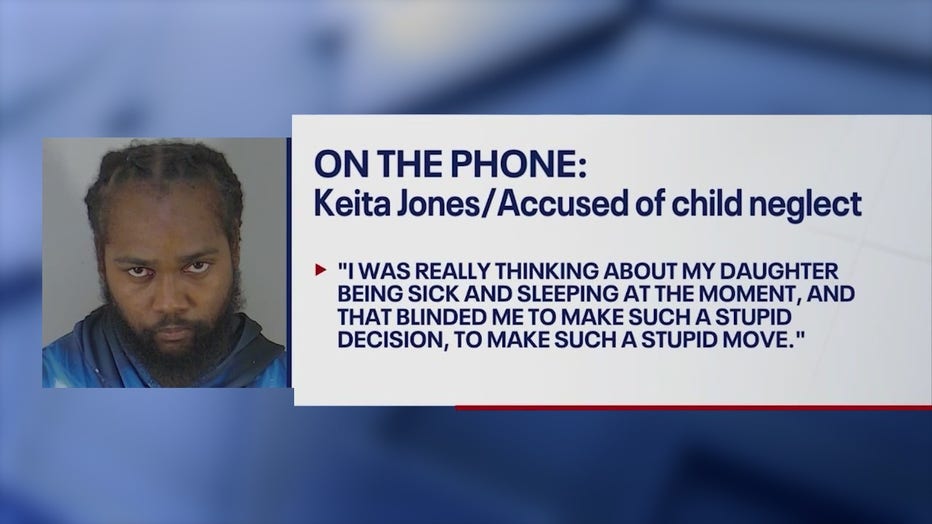 "I was really thinking about my daughter being sick and sleeping at the moment, and that blinded me to make such a stupid decision, to make such a stupid move," Jones said.
MORE FLORIDA NEWS
An observant Publix shopper noticed his daughter alone in the car and called 911.
According to Tavares police, surveillance video from Publix showed Jones' daughter was in the car alone for about 45 minutes. Jones denies he was gone that long but said the length of time is irrelevant.
"The point is that I made such a stupid move, and I don't care if it was five minutes, three minutes, two seconds. I should have not [done] such a thing," he said.
It's at least the third reported incident in a matter of weeks of a child being left in a hot car – two of which were deadly. 
In Palm Bay, a baby was found unresponsive – and later died – after being left in a hot car for nearly three hours while her mom attended church, according to Palm Bay Police. The mom told police she was late for church and thought someone else brought the child inside. The mom was later arrested under suspicion of aggravated manslaughter of a child.
A week later, a 2-year-old in Orange City, Florida died after being left in a hot car for hours. Volusia County deputies said a family went to lunch and came back home, but forgot the girl was in the car – still strapped inside the car seat. Nearly three hours later, they found the child in the car unresponsive. She died at the hospital authorities said. 
In this latest case, the fire department said temperatures inside the car reached upwards of 105 degrees.
Jones told FOX 35 that he is thankful someone called for help because his daughter may not be alive.
"I'm just glad that she's great. She's still perfect. She has no harm done to her," he said. Jones was arrested and booked into jail under suspicion of child neglect. He's scheduled to be back in court next month.