Tracking Invest 95L: Possible tropical disturbance forms in the Atlantic
ORLANDO, Fla. - The National Hurricane Center (NHC) is monitoring a small area of low pressure that could become a tropical depression over the next several days.
Invest-95L is located several hundred miles west-southwest of the Cabo Verde Islands and is producing an area of disorganized showers and thunderstorms over the central tropical Atlantic.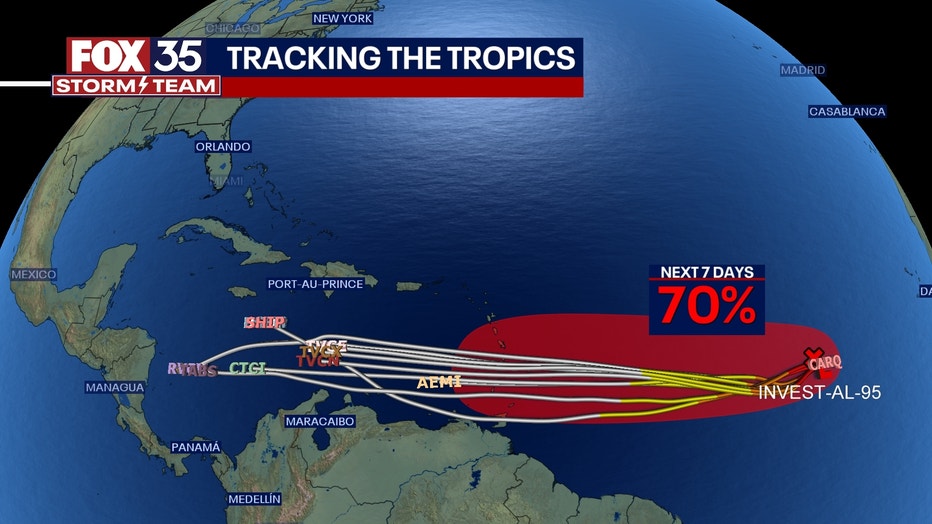 "Although environmental conditions are only marginally conducive, slow development is expected and this system will likely become a tropical depression early next week while it moves westward across the tropical Atlantic," the NHC said.
It now has a 50% chance for tropical development over the next two days and a 70% of formation over the next seven days. 
What is an invest during hurricane season?
The term "invest" is used every hurricane season in the Atlantic and the Eastern and Central Pacific basins, accompanied by a number from 90 to 99 and either the suffix "L," "E" or "C," respectively.
The meaning of invest is simply a naming convention used by the National Hurricane Center (NHC) in Miami, the Central Pacific Hurricane Center (CPHC) in Honolulu, Hawaii, and the U.S. Joint Typhoon Warning Center (JTWC) in Pearl Harbor, Hawaii, to identify areas they are investigating for possible development into a tropical depression or tropical storm within the next seven days. 
In the Atlantic, these systems and models are tagged as Invest 90L, Invest 91L, all the way up to Invest 99L, and then it starts back at 90L and repeats. The only difference in the Eastern Pacific is that they are labeled with an "E" instead of an "L," so Invest 90E, Invest 91E and so on. Similarly, in the Central Pacific, they are Invest 90C, Invest 91C, up through Invest 99C and then back to 90C.
The NHC, CPHC and JTWC use this naming convention because once a system is dubbed a invest, a collection of specialized datasets and computer forecast model guidance can begin on that area of disturbed weather. These computer models simulate the system's projected track possibilities and predict its future intensity.
FOX Weather contributed to this report.