Tropical Storm Lee close to hurricane strength: Will it impact Florida?
Stream FOX 35 News
ORLANDO, Fla. - Tropical Storm Lee is close to hurricane strength and is expected to rapidly strengthen into an "extremely dangerous hurricane" by this weekend, the National Hurricane Center said.
The latest track from the NHC shows the tropical storm quickly strengthening into a Category 4 hurricane northeast of Haiti – and in the general direction toward Florida. However, it's still too soon to know if it will impact Florida directly.
Tropical Storm Lee is located 1,200 miles east of the northern Leeward Islands and has maximum sustained winds of 70 mph, the NHC said. A Category 1 hurricane has maximum sustained wind speeds of at least 74 mph. 
It's moving west-northwest at 14 mph.
"Continued steady to rapid strengthening is forecast, and Lee is expected to become a hurricane later today and a major hurricane in a couple of days.," the NHC said. Tropical storm-force winds will extend outward 80 miles from the storm's center.
FOX 35 Storm Team Chief Meteorologist Jayme King gives an update on Tropical Storm Lee. Watch below:
MORE: Invest 96L could become tropical depression later this week, National Hurricane Center says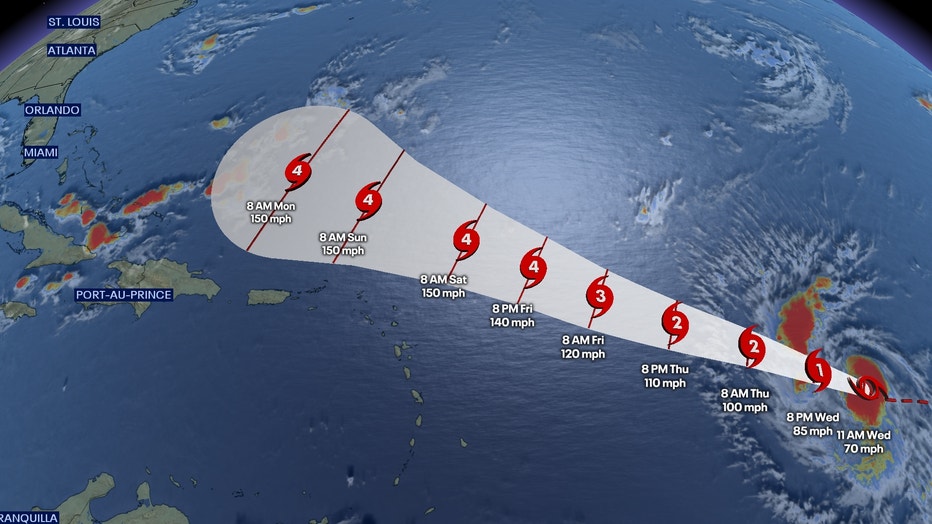 Where is future Hurricane Lee headed? Will it impact Florida?
The current track cone shows the tropical storm will likely undergo rapid intensification throughout the week, becoming a major Category 4 hurricane on a path generally toward the southeastern United States, particularly Florida. 
Lee's potential impacts to Florida may include a rise in seas and surf and dangerous rip currents.
It's important to remember that storm details and track analysis could change over the coming days.