Legislation would require Florida golf cart drivers to have license
ORLANDO, Fla. - Taking a golf cart for a nice ride could require a driver's license if a bill in the Florida Legislature is approved. The proposed legislation would also boost the age of golf cart drivers to 15 years old, as long as the teenager is accompanied by an adult.
As golf carts become more popular with people of all ages, House Bill 949 could soon make it a requirement for all people driving golf carts to have a driver's license or learner's permit.
"We often see children, they don't know the laws," said Ret. FHP Chief Joe Lopez and added that this legislation could save a life. "A lot of children under the age of 16, they go in the golf cart and exit a golf cart community, and they'll go on a public road and run stop signs, run lights and not yielding right of way."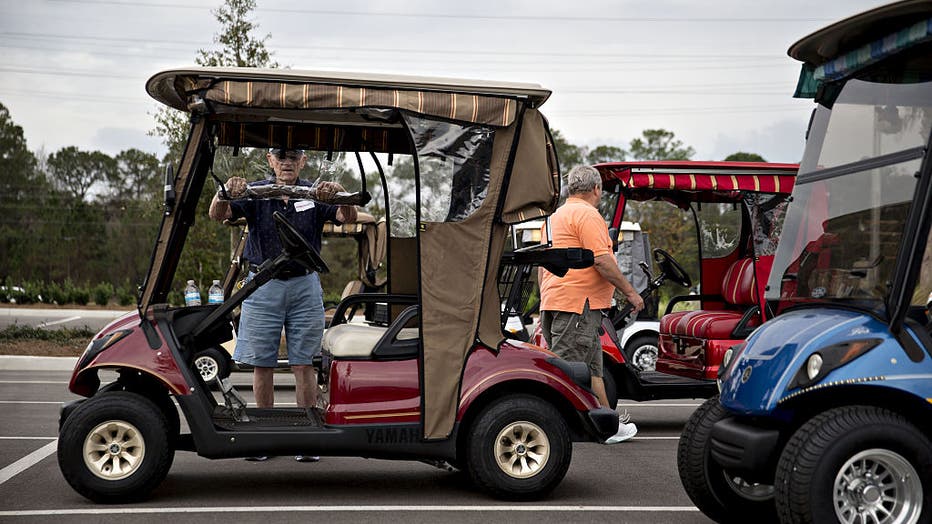 An attendee rolls up the weather shield of his golf cart in The Villages, Florida, U.S., on Sunday, March 13, 2016. Photographer: Andrew Harrer/Bloomberg via Getty Images
According to the American Academy of Pediatrics, more than 6,500 kids are injured every year on golf carts.
The legislation would pertain to all public roads. We asked parents what they thought. Parent Chris Karagiannis said, "Driving recklessly. I deal with that in my job in a community that has golf carts and if you don't observe the same rules as the drivers do many times. That's why I would support it."
Janet Diaz told us, "I think there's nothing wrong with being more cautious and knowing the rules they need to follow."
In order to drive on a public street, a golf cart must have all the proper safety equipment. If approved, the law would go into effect on July 1, 2023.